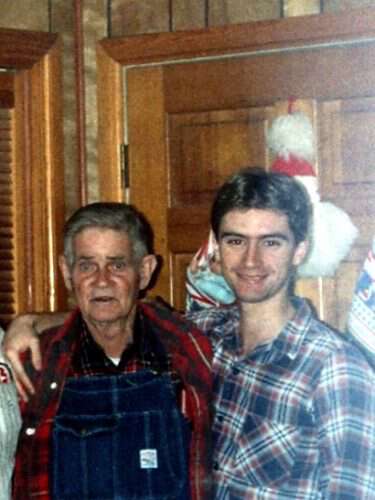 Papaw Wade and Paul
 Pap's father, Wade, was an old time Baptist Preacher. Pap heard him tell a story about a lad who made a small boat during one of his sermons.
A lad placed the boat in a rushing stream to see if it would float. As the wind began to blow, the boat was taken from his reach. He frantically tried to rescue the boat, but to no avail.
The lad searched from shore to shore but never found the little boat. He grieved for the boat he had made. As time went swiftly by, he happened to see the boat in a store window and oh how great the joy he felt. He would own the boat once more no matter what the cost.
The story of the lad and his boat stuck with Pap. He discussed it with his father, wanting all the details surrounding the story.
The image of the lad loosing what was his only to have to buy it back again inspired Pap to write the song I chose for this week's Pickin' & Grinnin' In The Kitchen Spot  I Twice Belong To Thee.
I hope you enjoyed Pap's song, the wonderful two-part harmony, and Paul's flat-top picking.
My Papaw, Wade, has been dead many years he died the year before The Deer Hunter and I were married. I still miss him. He had great wisdom to share like the story of the lad and his boat. But he was also a real Appalachian Mountain character, you never knew what he was going to say or do next. He wore overalls every day except Sunday.
Tipper