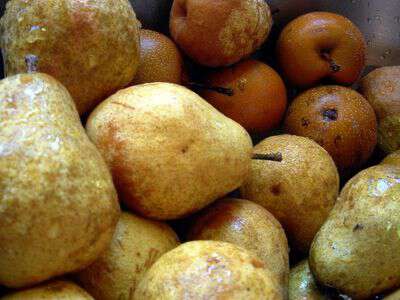 Summer has supplied a bumper crop of pears in our area. Thankfully-I had access to more than a few.
Granny's Pear Preserves recipe has been handed down through her family. I like it-because it's tasty-and so easy to make.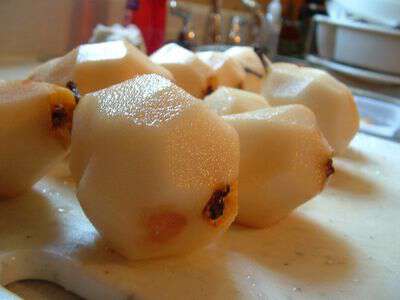 First peel the pears and then quarter, slice into slivers-as big or as small as you like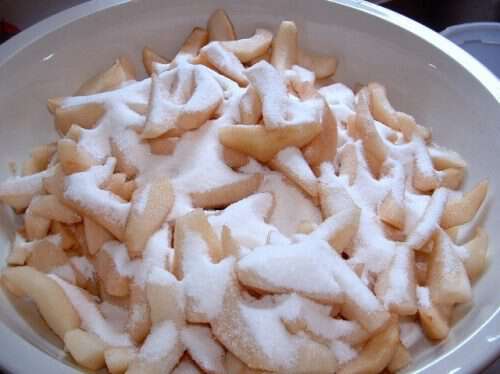 Place in bowl, pour sugar over, stir, cover, and let sit overnight in the frig (use 1 1/2 cups sugar for every 2 quarts of pears-you can use more or less sugar to taste)
After sitting over night-cook pears in large pot for 30 min. The pears will have made a little juice while sitting (the amount depends on how ripe your pears are) you may need to add additional water to the pot prior to cooking.
Ladle hot pears into hot jars, adjust 2-piece caps. Process 10 min in boiling-water canner.
Neither Granny nor I use the boiling-water canner. We just make sure the jars, caps and pears are all very hot. After putting the hot pears in the hot jars-they seal on their own. We've used this method for many years and have no spoilage.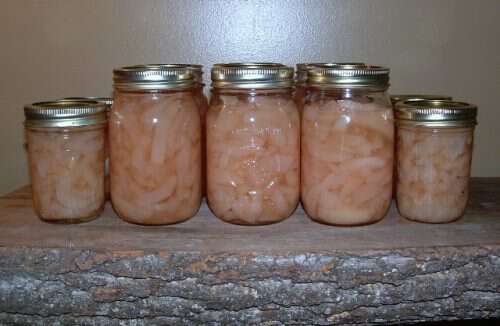 The pear preserves are great over biscuits, warmed up and served as a side-dish, or straight out of the jar-that's how the girls eat them. I take pleasure in thinking about women from past generations of my family making the preserves-almost as much pleasure as I get from eating them.
Each summer we put up food for the coming winter-but this summer I feel pressured to try and add additional supplies to our canning shelves. I'm sure the angst I'm feeling is due to the state of our economy. What about you-have you put up more than usual? Or maybe you've been adding a few extra items in the shopping cart each week?
Tipper