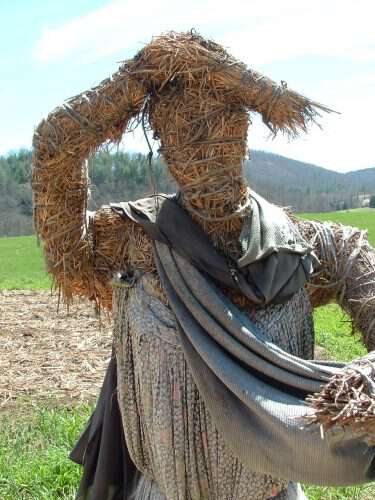 Normally I only have to see this creepy guy one day a week-but lately it seems I'm seeing him more often. While Chatter and Chitter are still loving the The Hyder Mountain Stomp,  they've fallen in love with the famous Brasstown Forward and Back. Better known as Contra Dancing.
Contra Dancing is a community affair-with dancers of all ages. The music is live and there's a caller who calls out the dance steps. They go through the steps before each dance starts so even beginners can catch on pretty fast-as beginners-we've found it's much easier if you have an experienced partner.
Contra dancing is kinda like square dancing as in you have partners and do figures. You form long parallel lines with your partner across from you. Then 2 couples form a set together and switch partners while doing the figure called out and then the couple moves on down the line to another couple and so on. I think the constant change in partners makes it exciting, fast paced, and fun.
Contra dancing is derived from The English Country style of dancing which came over with the first English colonists. During the 1800's Contra dancing was very popular but soon fell out of fashion, surviving mostly in New England and Appalachia.
Chatter and Chitter have had no problem catching on to the concept of Contra Dancing. For me-it's a little different. Near the end of each dance I think I've almost got it-then the dance ends-and it's time to start a brand new dance.
My biggest problem is getting dizzy when my partner swings me. More than one person shared the secret to prevent dizziness with me- You have to look into your partners eyes each time they swing you. I'm a shy person by nature and find it very difficult to look into someone's eyes I've never met before! When I sit on the sidelines and watch the dancers, I think the girls look so graceful while they're gazing into their parters eyes and simultaneously spinning-but once it's me that's required to do the gazing-I just can't seem to manage it.
J.D., a great contra dancer and musician, summed it up best for me. He said "if you look into my eyes it really will help with the dizziness. You might feel aggrieved but you won't feel dizzy."
Have you ever been Contra Dancing?
Tipper