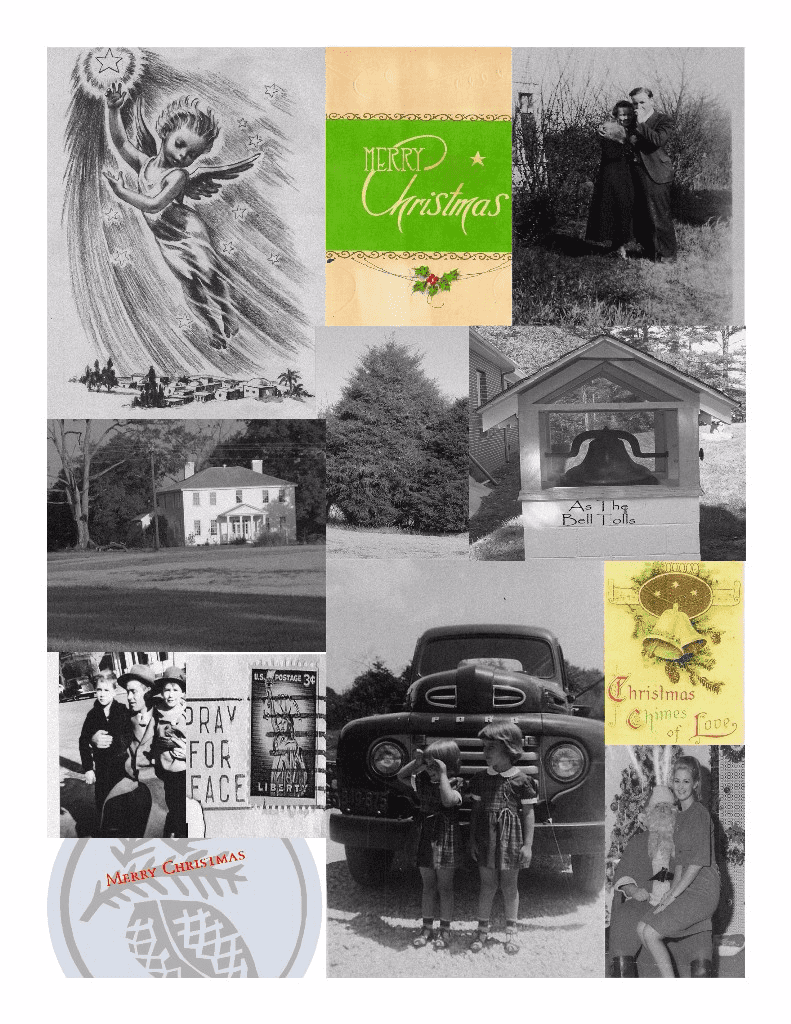 Christmas Time by Wayne Newton
When I was a boy we had two Christmases. The first one was in the log cabin where we lived, and where Papa made sure that Santa Claus came on Christmas eve. The cabin Christmas was pretty basic, a pine top, fastened to the wooden floor, near the fireplace, some tinsel, and a few candles. There was fruit (one apple, one orange, and one tangerine) and hard candy in the big work sock transformed into a stocking, and nailed to the mantel above the fireplace. This telling makes it sound pitiful, but in my mind, there was magic in each of my Boyhood Christmases.
As Christmas time approached each year, us boys started getting excited for the fun to come. We begged and pleaded with Papa to take us to find a tree. Now when you live in the middle of hundreds of acres of pines, finding the right one sounds simple. But the Longleaf Pine is different from any other. It doesn't look like a Christmas tree.
When the seed sprouts, it sends a root down, and for the next several years (as many as 8 or 10 yrs total), while the taproot system goes ever deeper, there is little to show above ground. The tree resembles a large tuft of bright green grass, though the needles are much larger than the wiregrass. And the Longleaf pine doesn't have branches until it is several feet tall. This characteristic makes it ideal for poles, but you have to search a while to find one suitable for a Christmas tree.
So when Papa agreed to take us to find a tree, usually on a Sunday afternoon, we all piled in the old post-war GMC pickup, and went back-in-the woods. The woods were criss-crossed with roads, trails, really, used by the turpentiners and cow trails, so we could drive for a very long way at five to ten miles per hour, without having to stop, or turn around. There was Papa, Mama with the new baby, up front, and Gibson, me, and Franklin, in back. Papa allowed us to point and choose, and point and choose, until he had driven past about a thousand perfect ones, before he finally stopped the truck, and we all started walking, him with the axe.
You would have thought we were choosing from a forest of Frazier Fires, or Leyland Cypresses. For we all emulated Papa; stop; look up at the top; circle around, stop, look up, circle around, until we had circled the tree at least three times, only to be disappointed by Papa, as he decided; no, not good enough. We repeated this ritual over and over, until he had worn us down, and then he selected one that looked just about like all those he had rejected.
By its very nature, the Longleaf pine is unsymmetrical in shape, and the tree is self-pruning, making for long distances between branches. To be frank, the top of a Longleaf pine just doesn't look like the magazine picture of a Christmas tree. In fact, I believe that the Charley brown Christmas tree is modeled after the Longleaf Pine. And the top, with the limbs and needles, was anywhere from 12 to 20 feet up in the air. It is called a sapling. So Papa's job was to visualize how it would look when most of the trunk was cut away. But he finally made a selection.
Then he would pull off his heavy jacket, measure to about where the top would fall, and begin to chop. I forgot to mention that Papa never learned that any tool with an edge performs much better when kept sharp. His axe was never sharp, so it took a while to fell the sapling. Sometimes it seemed that he was knocking it down, instead of cutting. Once on the ground he had to estimate where to cut it off so it would fit in the front room of the cabin.
Chopping off the top from the sapling was soon done and we marched in a line through the gall berries and saplings back to the truck, Papa with the tree top, me or Gibson with the axe, and Mama with the baby. It had been adventure of the highest order, and we were so proud of our tree.
Once back at home, Papa found some old scrap 2x4s or slats from the wood pile, and he soon had a frame nailed to the floor, holding the tree more or less upright. So many years later, when the cabin was moved for the last time, the floor board where the tree was once nailed, was placed in the same spot.
The fun started on the night before Christmas. We learned at a very young age that there were never any surprises hidden in the three room cabin. But this didn't dampen our excitement one bit. By sundown we were driving Mama crazy, and avoiding Papa, for he didn't stand for foolishness, for any reason. After supper, which came at dark/sundown, with little to read, Mama washed the supper dishes, and she finally settled us all down in the front room for what became a ritual in the David Newton home.
Papa sat in the only easy chair in our home, and we all sat on the floor near his feet, Mama always holding the newest baby in her lap. He opened his bible to the Book of Matthew, and he read the story of the birth of Jesus at Bethlehem. When he finished, he said a prayer for us, and then we all soon headed for bed.
It is hard to imagine with the houses we live in today, their thick walls, and modern conveniences, and closets, and attics, and cars with trunks, and neighbors, that a secret would be difficult to keep, but in my childhood, those were not available, so Papa was forced to hide any gifts or other Christmas surprises at Grandma's house, about a half mile away. And us boys never did figure this out.
Sometime during the night, after he was certain we were all fast asleep, he would sneak out of the cabin, and drive to Grandma's for the gifts. There were two major obstacles in his way, as he tried to keep his caper secret, and they were both named Wayne. I couldn't bear to sleep, knowing that the man in red was coming, so I got many whippings for not going to sleep like my brothers.
And the very second that Papa came back into the cabin, The unmistakable aroma of apple, or orange, or tangerine woke me up. At first I just lay and savored that smell. Only if you have never had any of these fruits, except at special occasions, can you begin to imagine the effect the aroma had on me. To this day, when I enter a home where there is fresh fruit, I am taken back to those times so long ago.
As soon as Papa had quieted down in the front room, I began to try to arouse my brothers in the room with me. We slept two to a bed, the room was small, and there was just the log wall between us and Papa and Mama's bed, so any sound I made was hard to cover up, so cover-up I did. I pulled the covers over our heads and poked my brother in the ribs, and whispered, "Santee Claus has been!!!!" I repeated this until I got a response, usually, a muffled, "Leave me alone!"
If I persisted too long, Papa heard me and after several threats, he would open the door to our room, and tell me, "Wayne, one more time and I'm gona whip you, boy!" Only problem was, when he opened the door, the full force of those aromas blasted into our little room. This was one of the few times in my life that I actually argued with Papa. "I know he's been, I smell the apples!" "But Papa, don't you smell the oranges?"
Finally, Mama, my blessed Mama, could stand it no more, and she played her part, "David, why don't you look and see if he's been here." And that was a signal to me. I was at the doorway in an instant, peering into the almost dark front room, as Papa pretended to look, first at the tree, and then to the mantel for the stockings. In the dim glow of the embers from the fireplace, I could see Papa as he lifted a big sock, that was miraculously filled with something.
There was no holding me back, then. I will forever remember that big sock so full of sweet smelling wonder. The fruit that had awakened me, the hard candy, the nuts, the kumquats; what a treasure trove! There was no sleeping after that! I don't have a clue what my brothers did or what they got, or anything else, I was in a world of wonder and joy! The things we received back then are lost in my memory, for they were not of such stuff to last for long. But the real gifts I received so long ago, will never be gone. The wonder of Christmas will be with me as long as my mind can wander back to that time, and that place in time.
—————————–
I hope you enjoyed Wayne's guest post as much as I did-I swear I can smell oranges after reading it.
Tipper