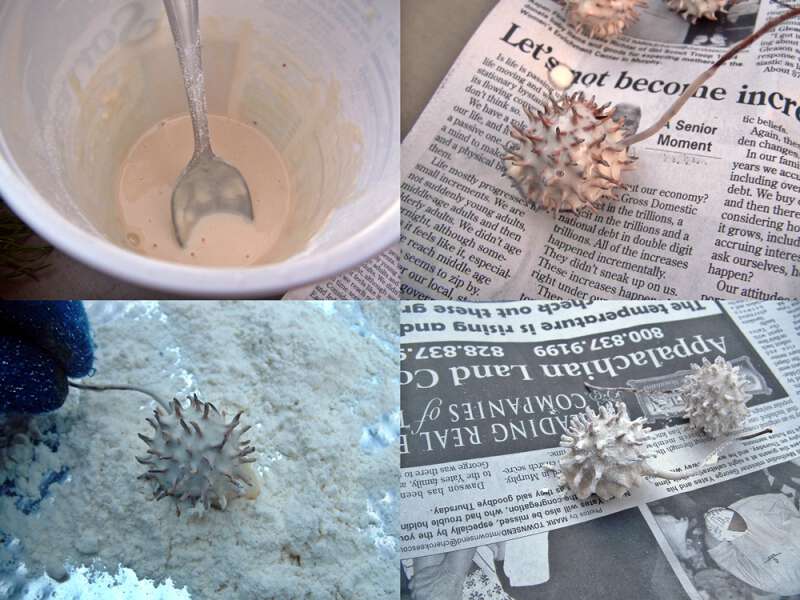 Once I got the thought of an old timey Christmas tree in my mind-I couldn't let it go. From the moment I told The Deer Hunter I wanted a real tree from our woods-I was determined to have an old fashioned tree.
The first decoration we made came from A Foxfire Christmas (click on the title to read part of the book). One of the interviewees described how they took sycamore balls and dipped them in flour and water to make them white like snow balls. I didn't have any sycamore balls-but I do have a never ending supply of sweet gum balls.
First-I made a thin batter of flour and water and dipped the sweet gum ball in it;
Then-I rolled/dipped the ball in flour;
I was so pleased with how they turned out-they did indeed look like snowballs.
B. Ruth shared how her family used flour and water to make decorations for Christmas with me:
My childhood memory of greenery decoration was gathering small cedar pieces, wetting them under the faucet, placing a 1/2 cup of flour in a large brown poke..while holding the damp branches upside down in the poke, gather the poke around them and shake it….take out.. instant snowfall…we would put them all around in vases and attach little red and silver balls…yes it would get messy after a while but was so pretty to us and would last thru the holidays…back then we only put up our real tree a week or less in advance of Christmas..
One other decoration from days gone by, that kept coming up in my reading, was stars or chains made from paper. My Great Aunt Hazel told me her family used any scraps of paper they could find around the house to make stars and chains. Several of the books mentioned folks using Sears Roebuck Catalog pages to make chains, stars, or other shapes.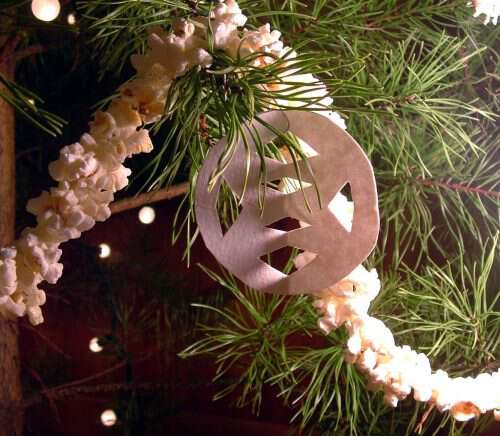 Going for the simplest route-me and the girls made round cut out snow flakes from both red and white paper. The Deer Hunter said it wouldn't be old timey if we didn't string popcorn-although when it came time to string it-he conveniently disappeared.
We topped the tree with one of my recent Folk Angel Toppers-and we did add lights which I don't guess is too old timey.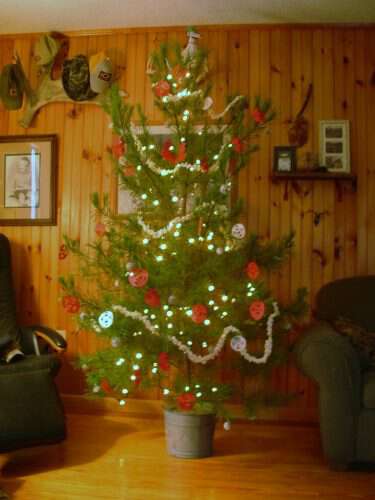 All in all-we are pleased with how it turned out-and I love how simple and easy it seemed to come together.
Be sure to drop back by tomorrow-GW Newton is going to share some of his extra special Christmas memories with us.
Tipper