I'm sure you've heard of Blue Mondays, Manic Mondays, Don't Want To Get Up Mondays-but I bet you haven't heard of Hyder Mountain Stomp Mondays. That's the kind of Mondays we have at our house.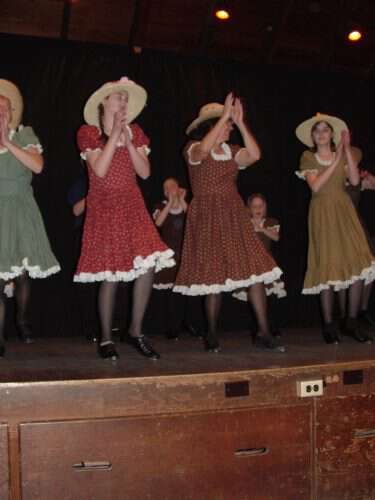 Chitter and Chatter have been clogging with a great team for almost 2 years now. They love it! The Deer Hunter's Uncle refers to clogging as The Hyder Mountain Stomp. So on Monday afternoons the girls do some stomping.
Clogging originated in Appalachia. The Irish, Scottish, English, and Dutch Germans who settled the mountains brought their style of dancing with them. A mixture of all the styles evolved into Clogging. Over the years many other types of dance have influenced Clogging, but it is still a dance done in time or in rhythm to the music. I'm always amazed their teacher can tell how the team is doing without looking at them-just listening she knows if they have it or not.
Clogging makes me happy for many reasons. Of course the main reason-the girls love it. I like that we live 5 minutes from the school where they practice and it only costs 50 cents a week. 50 cents.
In the winter they practice in a beautiful old auditorium that has a huge fireplace. In the summer they practice in an open barn. The girls like it better since there is more room.
I enjoy the traditional bluegrass music. But sometimes they mix it up and use a contemporary country song or even recently a bluegrass rap song Old Faithful Bluegrass.
My favorite thing about the team-it has folks of all ages-from Grandmothers to little Cutie Pies younger than Chitter and Chatter. The mix of old and young is important to me, it seems the way things should be. The young learning from the old.
I can remember asking Pap if I could clog when I was young-I swear he told me it was a sin. He denies it. But I know he did-I know too he didn't look forward to another drive into town when I already played softball, basketball and was always asking to be took somewhere.
What about you? Have you ever done the Hyder Mountain Stomp or maybe it was the Nutcracker or Swan Lake for you? Maybe you played first base or was a point guard? Leave me a comment I'd love to hear about it.
Tipper