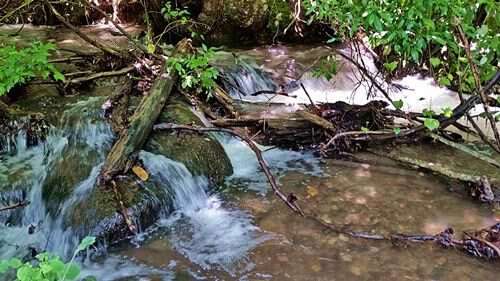 The Stamey Branch going at full throttle
A few of you have worried that the Blind Pig family might have been hurt by the horrendous flooding that's happened in Western NC over the last week. We have been just fine with nothing more than a washed out driveway to worry about. Others in our county haven't been as lucky. According to local officials Lake Chatuge, which is about twenty minutes from us, is higher than it's been in 40 years. The TVA has been opening the flood gates which in turn has caused flooding for folks who live along the Hiwassee River.
Other TVA lakes in the area have also had to open their gates to release the excess water.
The local radio station reported that Murphy received 7.1 inches of rain during the month of May. More than a few people living outside of Murphy reported 10 inches of rain for the month.
Ken Roper said Nantahala Lake had it's gates partially opened to let some water out and that the Nantahala River Road was closed from flooding. Ken's friend's son had to drive an extra hour and half to get home another way. One of my friends lives in the same general area and she and her husband drove for two hours across Rainbow Springs to make it to their house. She wasn't at work the following day so I'm guessing they're still suffering from all the extra water.
Don Casada shared this about the flooding:
"The other night, they noted on Channel 13 out of Asheville that we'd had more rain this month than any in recorded history, breaking the monthly rainfall from August, 1940. Although they didn't realize it apparently, August 1940 was when we had tremendous flooding in WNC.
Susan and I drove over to Marble on Wednesday. The Nantahala River had been unleashed; I've never seen it anything remotely like it was. I got a few photos and a bit of video:
http://www.diagsol.com/Photos/P1070040.MP4
http://www.diagsol.com/Photos/P1070021.JPG
http://www.diagsol.com/Photos/P1070022.JPG
For those not familiar with the area, flow in this section is regulated by a dam, so they must've been bypassing some. I also don't recall ever seeing the river ever being so muddy."
———-
Hopefully the rain has moved out and things can get back to normal once folks get the mess cleaned up. I'm always reminded of the waters of the mighty deep when wet weather occurrences such as this one happen.
Tipper
Subscribe for FREE and get a daily dose of Appalachia in your inbox