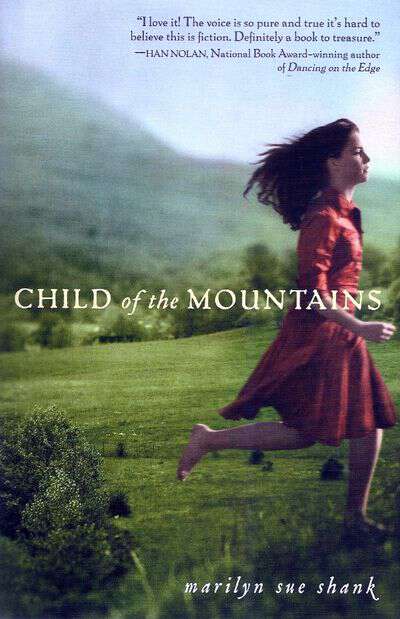 A few weeks ago, I had the great pleasure of reading Marilyn Sue Shank's new book Child of the Mountains. From the first page I fell in love with Lydia who is the central character of the story. The book is written in diary form-as if the reader is getting to peek into the personal thoughts and experiences of Lydia. But the story is so compelling and the characters so life like to Appalachia-that I felt as if I knew them-as if I could read their inner thoughts and feelings too.
Marilyn Sue Shank graciously agreed to be interviewed for the Blind Pig. She also asked for Random House Children's Books to donate a copy of Child of the Mountains for me to use as a giveaway-and they agreed! So stick around till the end of the interview for your chance to win a copy of the book.
—————————
*Did you always want to be a writer or was it a desire that came to you later in life?
I always loved to write. When I was in fourth grade, I remember we used to listen to a radio program about West Virginia history. Then we would write stories about what we had heard. One day, my teacher said, "Marilyn, I love to read your stories." Her words sparked something in me that finally came to fruition as an adult. However, I also loved teaching, and that was my chosen occupation.
*Do you primarily make a living from writing or is it a labor of love?
I was in a car accident 21 years ago that left me with chronic, full-body pain. I was able to continue teaching for 16 years after that, but I finally had to face that I would have to leave the occupation that meant so much to me. I had to go on disability. However, I
thank God now for the time to write. I had started Child of the Mountains while I was still working, but it never would have been completed if I had continued teaching.
By having my occupation and the income that came with it stripped away, I learned that faith, hope, and love truly are the only valuable commodities in this life. In my novel, Lydia learns that truth at an early age from the examples of her mother and grandmother. Faith, hope, and love sustain her through tragedy. Lydia also learns that we are made strong through weakness. I've learned from experience that sometimes the most challenging changes in life can result in wonderful outcomes.
Even when a writer is finally published, unless that person is a big name and tops the best seller charts, making a living from writing is not possible. So, yes, writing is a labor of love for me.
*I found Child of The Mountains rang true with authentic Appalachian Culture-did you grow up in Appalachia? If not-how did you create the authenticity for your book?
I've had people ask me if it was difficult to write in dialect. The answer is no, it came naturally to me. I heard Lydia and her family speak in the dialect of my childhood as I was writing. I grew up in West Virginia. Although I was born in Charleston, the urban capital of the state, many of my relatives spoke the dialect of the hills. My father, a project scientist, loved Appalachian sayings and sprinkled them in his speech. My mother switched easily from Appalachian dialect to Standard English, depending on the people around her. I researched Appalachian dialect to make sure what I remembered was accurate and was surprised to find that it was.
The heavier dialect is not spoken as much anymore because of exposure to television, radio, and frequent travel. I hope that Child of the Mountains helps preserve the lyrical language of the hills.
*Do you think it's important to write about Appalachia in a positive way-or is just an interesting backdrop for a story you wanted to tell?
I love and am proud of my heritage. We have so many gifts as Appalachians—our music, storytelling, visual arts, inventiveness. One of my frustrations as a former teacher is that intelligence tests in schools do not measure creativity, a vital component of intelligence. The children of Appalachia would score high on such tests. I grew up in the "chemical valley." Appalachia needs to be recognized for the contributions its people have made to science. That's why I wanted people to see the wisdom and intelligence in Lydia's family, despite the stereotypes people have of Appalachians who speak with the dialect.
What I believe is most wonderful about Appalachia is her people, who traditionally care about others, reaching out to help those in need. The resilience of the people of Appalachia is remarkable. I use a quote by Margaret Hatfield to introduce the book: "These women of Appalachia, they didn't survive. They prevailed."
No, Appalachia is not a backdrop for Child of the Mountains. Appalachia is the story.
*Would you consider Child of the Mountains a young adult book?
Random House lists Child of the Mountains as a middle-grade novel because Lydia is eleven when the story begins and twelve when the story ends. However, teenagers seem to enjoy it. Adults appreciate the novel as a coming-of-age story. What surprises me the most is that many men have told me how much they like Child of the Mountains. The novel seems to resonate especially with people from Appalachia.
*I don't want to give the story away-for those who haven't read the book yet-but do you think the 'issue' that resulted in jail time would have ended the same way if the folks who needed help weren't from the backwoods of Appalachia?
No, I think the reason this story came to me is because of the frustration I had growing up with the stereotypical images of people from Appalachia as ignorant and foolish. I saw the intelligence and wisdom of people around me. The only reason Lydia's mother and uncle tolerated demeaning treatment was because of their desperation to help Lydia's
little brother.
*From the first page of the book, I fell in love with the main character, Lydia. I found myself wanting to take care of her-wishing I could step in and make things right. Will there be more books about Lydia? Do you have any other works of fiction forthcoming?
I have a trilogy in mind, but whether I am able to write the second and third book depends on the success of the first.
For the sequel, Lydia makes a promise to her mother in Child of the Mountains that she doesn't keep in high school. The results are disastrous. Also, Lydia's life has turned upside down. She is now wealthy. Her stepfather is a lawyer and the family lives in an exclusive area of Charleston. She's had to learn Standard English, and is struggling with her identity, especially when a classmate from Jackson County, WV, who is treated badly, causes her to confront her past. She keeps thinking "I could be Hannah." At the same time, she wishes she were Hannah.
In the third book, Lydia will return to the hills in Lincoln County, WV, to teach. Her fiancé is in Vietnam, and she has an interesting mix of students from coalmining, moon shining, hippie, and highly educated families. The opinions of the families about the War add to her own conflicted thoughts about Vietnam.
*Where can people find your books? Is there anything I missed that you would want to share with my readers?
I hope their local bookstores and public libraries will be carrying Child of the Mountains. They can also find links to online booksellers on my website (select the Books link): www.marilynsueshank.com
I consider Child of the Mountains my love letter to the people of Appalachia. I would like to thank your readers for embracing my little novel, and especially to you, Tipper, for your efforts to preserve Appalachian culture through this blog.
—————————
I hope you enjoyed the interview! And if you'd like a chance to win a copy of the book leave a comment on this post. Giveaway ends on Sunday June 17.
Tipper