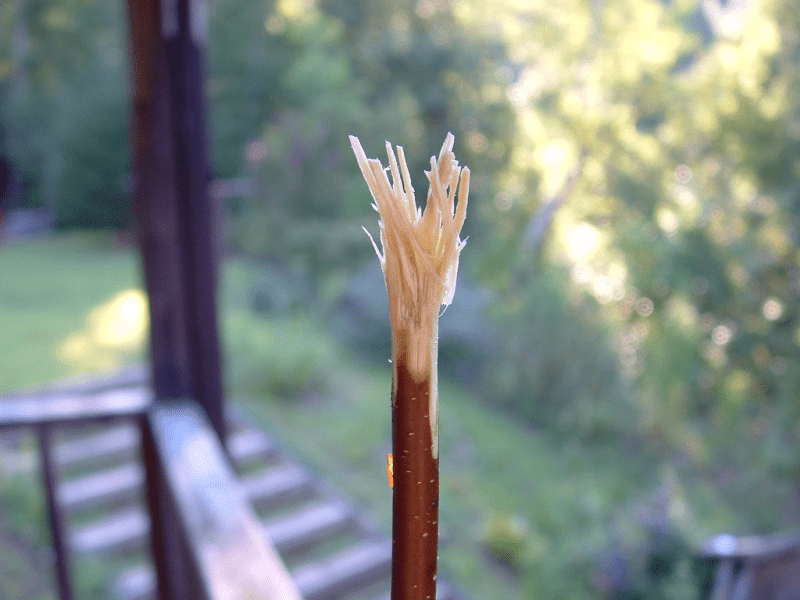 Most everyone used twig toothbrushes when I was a child. They'd get a small stick from a blackgum tree about as big as a pencil and use that. As you chewed on the end the wood softened like a brush but didn't fall apart. If you tried to use a Birch twig it would just come apart on you. Out on the porch there'd always be a bucket of water and a wash pan to wash your hands and face in. Usually there'd be 2 or 3 blackgum twig toothbrushes laying out there too. If you were really interested in cleaning your teeth you'd use baking sodie or salt with the brush. People who dipped snuff would keep a stick brush in their pocket along with their snuff. They'd use it to tamp down the snuff in their mouth or to brush off their teeth after they got through with a dip. And a few people would wet their brush good and dip it in the snuff and just stick the whole thing in their jaw instead of packing the snuff down in their lip or jaw.
~Pap
————-
Your picture of the toothbrush reminded me of one of my first memories. We lived with my maternal grandparents until I was about 4 and my great grandmother also lived there. She was bedridden and everyday she would ask one of us to go out to the blackgum tree and bring her a "toothbrush". We would chew it up real good on the end so that she could clean her teeth. Not very sanitary by todays standards, but it worked well back then.
~Mary Berrong
————-
Mitchell tells me he used a birch toothbrush when he was a kid-right up until one of his oldest brothers got out of the service. One of the newfangled presents he brought home was a shiny new tooth brush & tooth powder. Zeb took Mitchell down to the creek for a memorable lesson in dental hygiene. To this day he has a very grateful little brother!
Suzi Phillips
————-
Tipper, my mawmaw would dip snuff in her middle years and I remember her cutting a twig from the Sassyfrass Bush which grew right beside the back porch. I thought it was odd that she would "brush" her teeth because she had false teeth. Must have worked because she did it almost everyday. The bush being so close to the back door, also provided tea whenever we wanted a little something different. Nice memory!
~Shirley Owens
————-
My Aunt Hallie and Uncle Pat both chewed and dipped. There was a little toothpick holder that had their twig brushes in it on the sideboard.They would use their twig brush then chew a piece of T-Berry or Clove gum to freshen their mouth. Just seeing that photo brought back memories.
~Vera Guthrie
————-
I've long chewed on birch twigs but it never occurred to me that it would work as a toothbrush. How cool! I love sassafras too but my grandpa and I always seemed to go after birch first.
~Warren
————-
Tipper