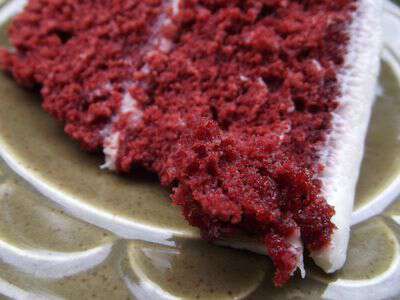 A few weeks ago, Chatter asked me if she could make a Red Velvet Cake. I told her I had never made one and I'd never been especially fond of the ones I had eaten. I tried to get her to make some other kind of cake, but she was having none of that.
Since I'm always thinking about Blind Pig readers I wondered if any of my Appalachian Cookbooks had a red velvet cake recipe. I don't think of Red Velvet Cake as a traditional Appalachian recipe, but I figured it wouldn't hurt to look.
I checked my favorite cookbook first-More Than Moonshine written by Sidney Saylor Farr. The book didn't have a red velvet recipe, but it had something really close (really the same thing): Mother Farr's Red Devil's Food Cake. Even better Sidney Saylor Farr collected the recipe from her mother-n-law, Mrs. Farr, who happened to live in Western NC.
Ingredients:
1/2 cup shortening
1 1/2 cup sugar
2 eggs
4 tablespoons cocoa
1 teaspoon red food coloring (we used 2 to make sure the cake was as red as Chatter wanted it to be)
4 tablespoons hot coffee
2 cups plain flour
1 teaspoon baking soda
1 teaspoon salt
1 cup buttermilk
1 teaspoon vanilla
Preheat oven to 350; cream sugar and shortening thoroughly.
Beat eggs, add, and mix well.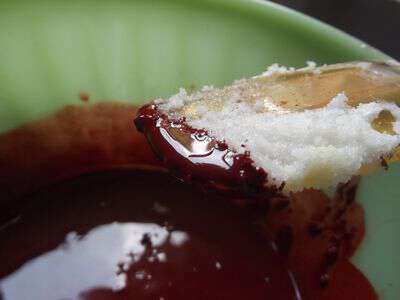 Mix together: cocoa, red food coloring, and coffee; add to mixture-blend well.
Sift together: flour, baking soda and salt.
Add dry ingredients alternately with buttermilk and vanilla-mixing well.
Chatter used two 9 inch cake pans, but you could use whatever size you wanted too. Instead of greasing and flouring the pans we used a trick I learned during my Preserving Mountain Flavors class and lined the pans with parchment paper. Bake for 25 minutes or till done. Time may vary depending on your oven and what pans you choose.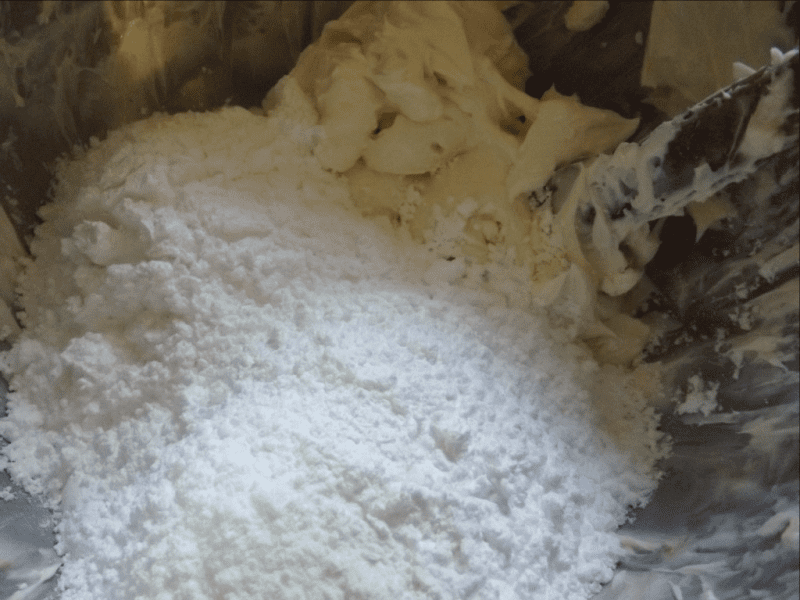 While the cake baked Chatter made a basic cream cheese icing-that she found here. The recipe used: 2 8oz packs of cream cheese, 1/4 cup milk, 1 stick of softened butter, 2 teaspoons vanilla, and 4 cups of powdered sugar.
Mix everything but powdered sugar together then gradually add powdered sugar until mixture is smooth and creamy. The icing recipe tasted great, but made way too much for our cake. Maybe you could half the recipe or just use your own favorite cream cheese icing recipe.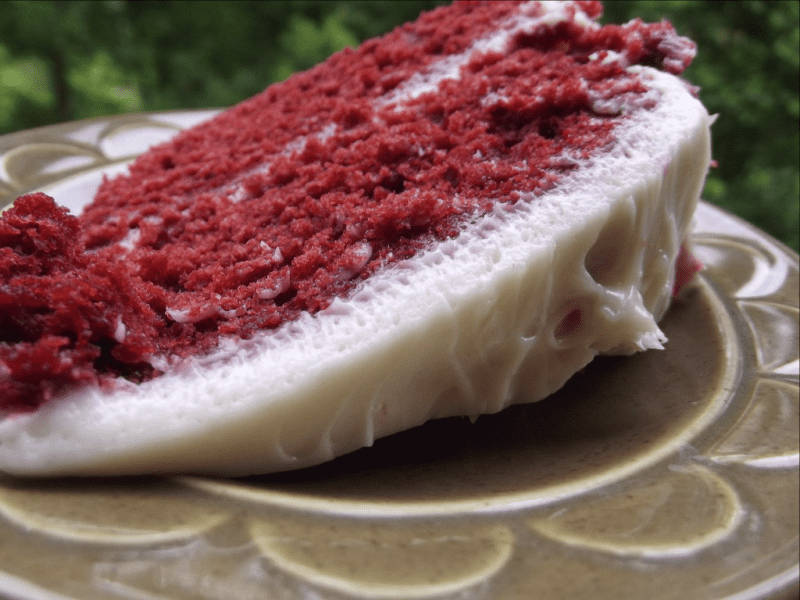 The cake turned out perfect, in fact it was so tasty I can no longer say I don't care for red velvet (red devil's food) cakes.
Tipper