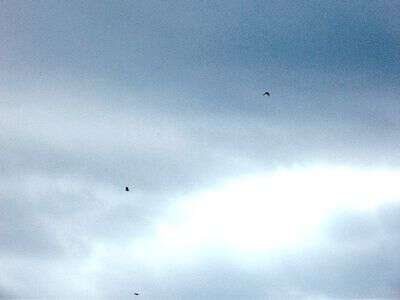 This was one of my favorite photos I took of crows-not that its anything special-but I just like the look of them flying as the skies are changing from late summer to fall of the year.
A week or so ago I told you at one point in my life clogging was my refuge. Today's crow story was written by Misty Taylor-seems once upon a time crows were her refuge.
———————
Refuge by Misty Taylor
There was a time that my world was upside down. During that time, I was offered a respite care in Brasstown, NC. It was a special, quite place where everything appeared to be exactly as it should.
Outside my friends house was a Cherry tree overflowing with fruit. It was such a pleasure to see the Crows devour the cherries. The contrast of their large, inky bodies against the green and red was breathtaking. In their pursuit of nourishment, I was nourished too. Because they shared with me, I had the strength to face the battles that lay ahead.
———————
If you jump over here-you can see a mixed media painting Misty did in honor of her helping crows. The painting has long been sold-but if you like it-maybe you could convince Misty to do another one.
One last crow post coming up for tomorrow. As I wrap up our Week of the Crow-there'll be a giveaway-so make sure you drop back by.
Tipper
Appalachia Through My Eyes – A series of photographs from my life in Southern Appalachia.