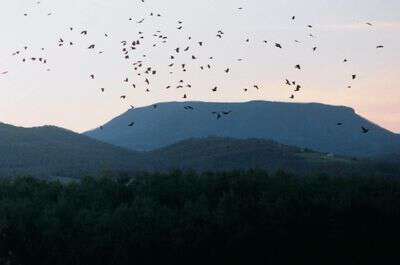 (Photo by Richard Moore-taken in the Lexington VA area)
A few weeks ago, Mike McClain told me I should check out a new group he recently heard-Dehlia Low. So I gave them a Google-and within 10 minutes I was Dehlia Low's newest groupie.
The band has been together since 2007-it originated in Asheville NC and consists of:
Anya Hinkle-vocals/fiddle
Stacy Claude-vocals/guitar
Aaron Ballance-dobro
Bryan Clendenin-mandolin/vocals
Greg Stiglets-bass/vocals
Dehlia Low has a typical bluegrass/oldtime feel-with fantastic harmonies-and outstanding instrumental breaks in their music-but they bring a new feel along with the old. Maybe the newness happens naturally because the band performs mostly original songs.
As I browsed around their website I was intrigued by the band's latest cd-Ravens & Crows. With The Week of the Crow looming closer-I got to talk with songwriter Anya Hinkle about the title cut from the cd-Ravens & Crows.
Anya told me she grew up in Blacksburg VA-playing fiddle and singing in church. Anya and her husband moved to Asheville NC for the energetic music scene the area offers. I was so impressed with Anya's songwriting I assumed she'd been writing since she was a child-not so. Anya started writing songs soon after the band-Dehlia Low was formed. Once she told me that I was even more impressed. Check out the lyrics for Ravens and Crows:
Ravens and Crows(A. Hinkle)
When I went to show my color I carried a heavy load And when I cried to my mother She said it's all ravens and crows Baby, it's all just ravens and crows
When I saw that ringing hammer Well it did not shine like gold Whether it's coal, rock or steel it doesn't matter Cause it's all ravens and crows Hey, hey it's all just ravens and crows
Now the sands from the storms are uniting At the angle of repose Them boys put down their guns and quit fighting Cause it's all ravens and crows Brother it's all just ravens and crows
Well it's a red, red wine in the pulpit Corn whiskey when I'm low Well it's just water when I'm hard up lord And it's all ravens and crows Darlin' it's all just ravens and crows
—————–
The more I listened to the song-the more meaningful it became to me. It could be because I'm raising 2 teenage daughters who are dramatic-or maybe it was because crows had been on my mind so often in recent weeks-but the more I heard the song-the more I found myself saying "Yep its all just ravens and crows."
When I asked Anya to tell me how she wrote the song-I just knew she would tell me it was based on an old saying her Mother used. It turns out-the line "it's all just ravens and crows" popped into Anya's head as she drove between her job in Highlands NC and her home in Asheville. After she had the phrase-the rest of the lines were worked out until it all flowed into a song. Anya said she was often asked about the meaning of the song and she found it more interesting to find out what the song meant to the individual listener. Many folks-like me had assumed it meant something like "its just dust in the wind".
I could gush about how much I enjoy Dehlia Low's music all day-and believe me I have to anyone who'd listen in the last few weeks. The band was nice enough to donate a cd for me to giveaway during my Week of the Crow so one of you could get a chance to hear their tunes too. Interested in winning it?
Dehlia Low's music speaks to me. I love that a Blind Pig reader cared enough to mention them to me. I love that their music makes my heart-head-and feet jump. I love that Anya Hinkle wrote a song about crows-and the band decided to make it the title cut of their latest cd. I love that its a small world-and my 2nd favorite Contra Dance Caller who lives right here in Brasstown happens to have been Anya Hinkle's first playmate. I love that over the last few weeks Dehlia Low has been the soundtrack of my life as I drove to and fro during an especially exciting time for me and the Blind Pig.
Tipper