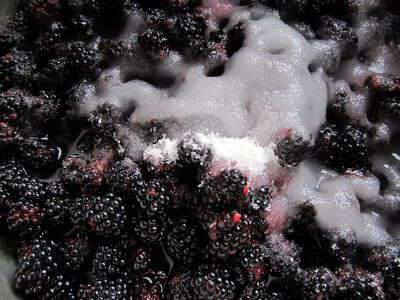 After so many of you left comments about Blackberry Dumplings I decided I had to give them a try. I thought "If that many people remember them from childhood I bet my favorite Appalachian cookbook-More Than Moonshine by Sydney Saylor Farr will have a recipe for Blackberry Dumplings." My thinking was right.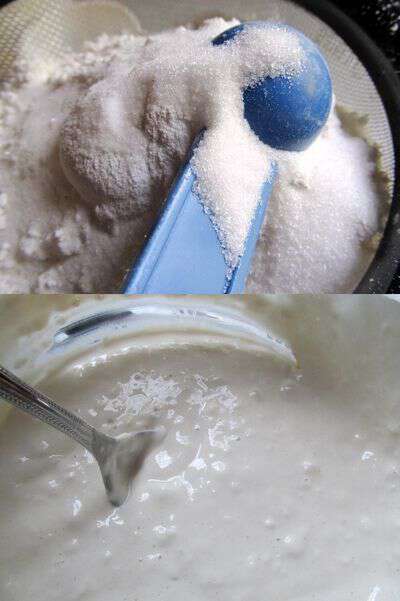 Sydney Saylor Farr's Blackberry Dumplings
1 quart blackberries
1/2 cup hot water
1 cup sugar
dash of salt
2 cups sifted flour
4 1/2 teaspoons baking powder
1 tablespoon sugar
1/2 teaspoon salt
1 cup milk
Mix blackberries, hot water, salt (dash), and sugar (1 cup) in a large pot with a tight fitting lid until the mixture begans to boil. Reduce heat and cook blackberries until tender (I cooked mine about 15 minutes).
Sift together flour, baking powder, sugar (1 tablespoon), and salt (1/2 teaspoon). Pour milk in and stir to make a dough. The dough will be runny. I was worried about the consistency-but I reminded myself every recipe I've tried of Ms. Farr's has been fantastic so I went ahead with the runny batter-and everything turned out great.
Drop dough by heaping teaspoons into simmering blackberries. Cover pot tightly and reduce to low heat. Cook for 13 to 15 minutes or until dumplings are done. Serve with cream.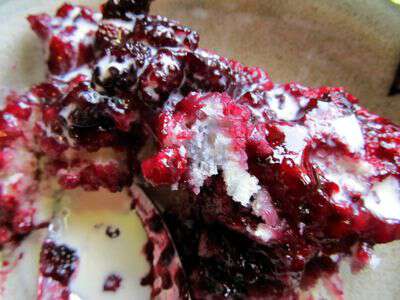 After eating a big bowl of blackberry dumplings with a glass of cold milk-I can surely see why so many of you commented about the fond memories of eating Blackberry Dumplings as a child.
Tipper