Today's Spooky October entry was written by Ethel.
—————————-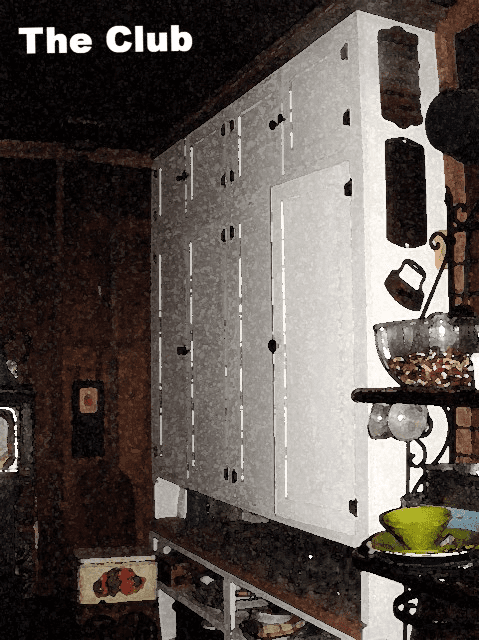 The Club written by Ethel
When I was in my mid-twenties, I reluctantly put in an application to work in a private club here in town. I wasn't happy about the prospect, not being a drinker myself; and the Club is located in the once-thriving manufacturing district of the town, an area that by then was mostly empty factory buildings -and bars, some with less than savory reputations.
Despite my reluctance the interview with Freida, the bar manager, went very well and I got the job. After the interview, Freida told me that the place was haunted. I could tell she was watching closely for my reaction. I told her that I absolutely believe in spirits, having encountered a few minor incidents of a 'was it or wasn't it?' nature that would be difficult to explain in any other way. While these things are a bit unsettling, I've never been particularly afraid of spirits – folks are folks, as far as I'm concerned!
This wasn't a hoity-toity club, it was only private to keep the rowdies out, and our members were very nice to work for. Just about every member of the Club told me ghost stories about the place in my first couple of weeks; the television in the pool room would go on and off by itself, and pool balls were frequently heard rolling and clicking together on the pool table when there was no one back there. Well, that didn't sound too terrifying to me, and I did experience the clicking pool balls on a few occasions. If it happened when I was alone I would say out loud, "Yes, I know you're here. Clean up after yourself when you're done back there!" Nuts, maybe, but pretty soon it would get quiet again. After several months, I began to experience things that were a little more disturbing.
I always dreaded having to stock coolers at the end of the night. The hallway to the stockroom gave me the shivers, like someone was following me, and I had to make several trips up and down that hall every night. As time went on, the creepy feeling in the hall began to be felt around the long end of the bar near it.
One evening business had been very slow. I'd finished most of my side work early and was alone doing crossword puzzles when two of my favorite older gents came in. I always loved listening to the old timers tell stories and this night I had plenty of time to indulge myself. As we sat at the short end of the bar, the gents spun tale after tale of old scandals and tragedies of the town. I was completely absorbed when I distinctly heard a woman's voice at the long end of the bar call my name. She sounded rather cross. It sounded so real that I actually turned to see what she needed, even though I knew there was no one there. The men went on with their storytelling, obviously I was the only one to hear the voice, so I just acted as though nothing had happened. When the men left I locked up and started closing out the cash register when I heard a loud rap on the long end of the bar behind me, where the phantom voice had come from earlier. Startled, I spun around and saw one of the bar stools very slowly swivel 360 degrees, then stop. I will admit to being more than a little rattled by this, and I wasted no time getting out of there.
I had a friend with 'sensitivities' come in and give me her impressions. The pool-player was harmless, my friend told me, and only wanted to keep doing something he'd found relaxing when he was alive. Then she said she sensed a stern-faced older lady from the 1880's in the hallway, who said her name was Ida. Ida thought drinking was evil and she didn't think it was proper for a young woman to be working in a drinking club. (The Women's Christian Temperance Union was quite strong in this town during the later 1800's.) My friend also said that Ida came in at the end of my shifts and tried to prevent me stocking the coolers, figuring no one would want to drink if there was no cold beer.
The final straw came a few months later. The uneasy feeling at the long end of the bar and down the hallway seemed to get more and more bothersome with every day. One night I had closed and was sweeping up behind that end of the bar. There was a shelf under the cash register where we barmaids kept hand lotion, aspirin, and other little necessities for working. As I swept, something caught my attention and made me look up. To my amazement, I saw the lotion bottle move off the shelf horizontally about two feet into the walkway, hover for a second, then fall to the floor!  For the first time in my life I was well and truly scared by a spirit. You know; it made me kind of mad. I threw down my broom, turned to where Ida seemed to sit, and informed her that I didn't like working in a bar any more than she liked me being there. I said that I was looking for other work, but meanwhile I had two babies to support, and the work was hard enough without having to be scared witless like that! Shaking like a leaf, I finished my work and got out as fast as I could move. I never had another problem with Ida (though that hallway was still uncomfortable), and shortly after that night I got a job at our local fancy restaurant. I miss the old timers and their stories, but I sure don't miss Ida!
—————————-
I hope you enjoyed Ethel's tale as much as I did!
Tipper