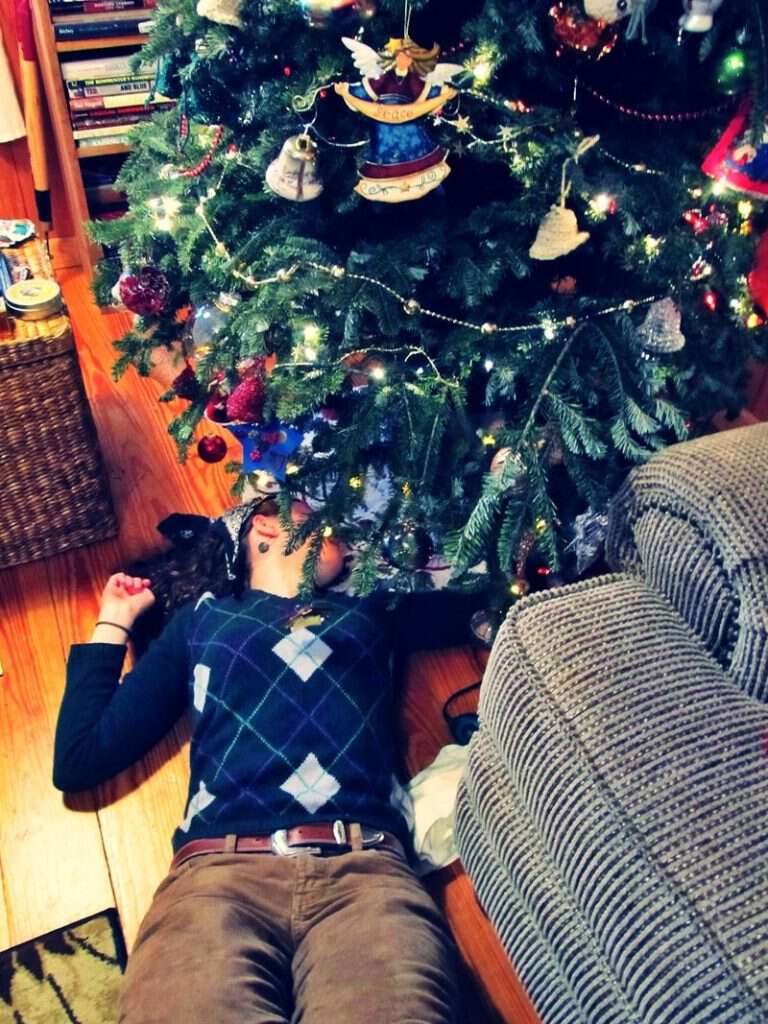 Christmas is coming! I'm sure you've already noticed the decorations in the stores. The girls and I have been in Christmas crafting mode for a few weeks now. While we were crafting yesterday I said "We ought to listen to some Christmas music." I told the the girls I'd check the tv and see if the Christmas music channels had been turned on yet. Sure enough they had, so we crafted to the sounds of the season.
I found the crazy photo of Chatter from last Christmas. I have no idea what she was doing under the tree nor do I remember taking the photo…which makes me wonder what in the world her and her sister were up to that day.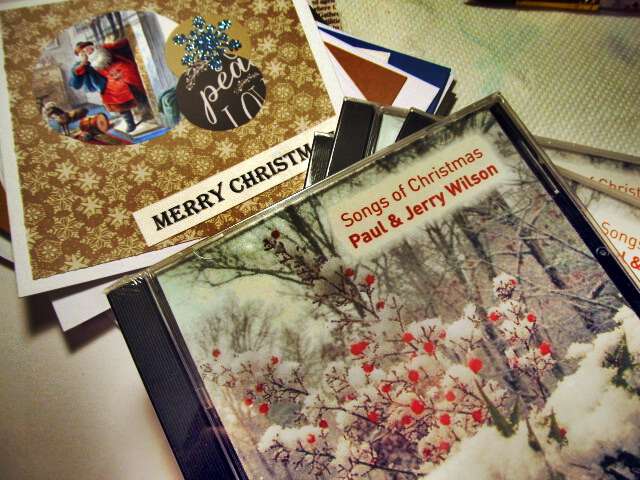 A couple of years ago, Pap and Paul put out the cd Songs of Christmas-a few of you probably remember it. The cd was a huge success-it completely sold out.
The first cd had 8 songs on it; Paul never felt like that was enough. After the success of the first cd, he decided he wanted to produce another Christmas cd, but instead of starting completely over he added more songs to the original cd for a total of 15 songs.
Hard to believe it's been two years since Paul produced the second issue of the cd Songs of Christmas. It's also hard to believe there are only 7 Sundays between now and Christmas-and that's counting this one! Christmas will be here and gone before we know it.
I'll be sharing songs from the Songs of Christmas cd for my weekly Pickin and Grinnin in the Kitchen Spot from today until Christmas in an effort to enjoy every last minute of Christmas this year.
Here's the cut of Silent Night from the cd.
While I was digging around in the basement for crafting supplies I found 4 cds from the first issue of the cd. I'll be giving them away starting today.
Do I have a favorite song from the cd? It's too hard to choose! O Little Town of Bethlehem has always been one of my favorite Christmas songs; Good Christian Men Rejoice has such a hopefulness about it; and Pap and Paul make Away in a Manger sound like a lullaby.
What Child Is This? gives me chills every time I hear it; Jingle Bells makes me pat my foot and think of Christmas morning; and We Three Kings is breathtakingly beautiful in a way that makes me disbelief someone (2 someones) from my family played every instrument and sung every word.
For a chance to win one of first issued cds leave a comment on this post and tell me what your favorite Christmas song is. *Giveaway ends Wednesday November 11, 2015.
If you'd like to buy a copy of the second issue of Songs of Christmas go here.
Tipper