The Penland Historical Society has graciously allowed me to share the following Historical Notes with you.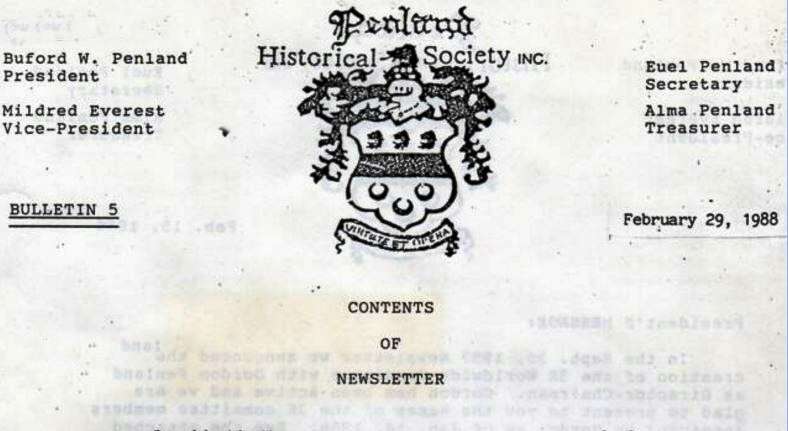 Historical Notes by Buford W. Penland
The William C. Penland Letters From East Tennessee 1862 – 1863
During the American Civil War Colonel George N. Folk organized the 7th Battalion N.C. Cavalry at Asheville, N.C. The battalion was originally, (July 18, 1862), composed of five companies but had grown to seven companies by the end of 1862.
Company B was organized under the command of 31 year old Captain William Patton Moore. It is believed that all the original members of Company B were from Clay County, N.C. Most of Clay County had been part of Cherokee County until February 1861 when the North Carolina Assembly established Clay County. Probably due to the war and its aftermath the county was not formally organized until 1868.
An enlistee in Company B under Captain William Moore was 18 year old Sergeant William Chamberlain Penland whose letters home are the subject of this writing. These letters add to our historical knowledge of the Penland and Moore families and to military movements, communications, supplies and living conditions in East Tennessee in 1862 and 1863.
Sgt. William Penland was a half first cousin to Capt. William Moore. William Moore's father was Jacob Lawrence Moore, whose father was John Moore and whose mother was Martha Covington. William Penland's mother was Patience Mahalia Moore whose father was John Moore, but whose mother was Susannah Jones, (John's second wife).
In late September 1862 Colonel Folk was ordered to go with three companies of the 7th Battalion to Johnson City, Tennessee to capture or disperse a group of disloyal men believed to be organizing near Stone Mountain. The North Carolina line runs along Stone Mountain (near Boone, N.C.). Company B evidently went by way of Knoxville, Tennessee since William's first letter home (Oct. 12, 1862) was from Knoxville. His next one (Nov. 23, 1862) was from Taylorsville, Johnson City, Tennessee. The mail was obviously a problem as he had not heard from home since leaving; at least two months and probably longer.
In his letter of Jan. 3, 1863 he gives an account of the Christmas week skirmishes in which people were killed and wounded. Northern General Samuel P. Carter made a raid into Carter County, Tennessee but was forced to retire due to Southern pressure. They must have burned the Zollicoffer bridge before retiring. From William's report the Yankees probably didn't need to retire. The Company B skirmishes seem to have been with bushwackers, not Carter's raiders. William also mentions run-a-ways (we call them AWOLS) and gives his low opinion of deserters.
In his letter of Feb. 18 1863 he says the battalion is now in the 65th Regiment. (The 5th Battalion and the 7th Battalion were combined to form the 65th Regiment). In his letter of Mar. 2, 1863 when he mentions General Jackson he is referring to General A.E. Jackson, who was headquartered at Strawberry Plains, Tennessee, not to General T.J. (Stonewall) Jackson.
Several of William's letters were written from Camp Zollicoffer, Sullivan County, Tennessee. The Zollicoffer bridge was where the railway crossed the South Holston River. This railway connected East Tennessee with Virginia; therefore all bridges on this railway were important military targets. The site is now called Bluff City Tennessee.
In early May the 7th Battalion was ordered to the Knoxville area to serve under General John Pegram, whose brigade had just returned from Clinton and Wayne Counties in Kentucky to Clinton, Tennessee. General Pegram's forces were preparing to return to Monticello, Kentucky to picket the Cumberland River. From William's July 19, 1863 letter we learn that he went to Kentucky and had returned to Sweetwater, Tennessee. There had been fighting in Kentucky, and in fact, the Captain and fourteen men of Company D of the 7th Battalion were captured.
In mid June General Pegram had been forced to retire from Kentucky in the face of added Federal pressure and of rumors of a raid on Knoxville. He first returned to Wartburg, his supply base, but Federal Colonel William P. Sanders had raided Wartburg and moved on toward Knoxville. Sanders was not able to enter Knoxville in the June 19, 1863 attempt; so, he headed North along the railway to destroy bridges. Battalion 7 was among Pegram's forces who followed Sanders but never caught him.
General Pegram then set up headquarters at Camp Ebenezer near Knoxville. Various companies of Battalion 7 were then sent to Big Creek Gap for scouting and picketing the road to Kentucky. In his letter of Aug. 14, 1863 from Camp Ebenezer, William said he had been sick for five or six days. As the troops moved toward Big Creek Gap William got sicker. His next letter Aug. 16, 1863 was from the home of Joel Bowling at Coal Creek (now Lake City) Tennessee. Obviously he was sicker than he thought, since Joel Bowling had to complete the letter and send it. William was able to sign it. Three days later William died.
The part of William's last letter written by Joel Bowling leaves the impression that Joel Bowling and William's father, Harve Monroe Penland, were friends. They probably were, for Joel Bowling had previously been postmaster at Fort Hembree in Clay County, N.C. This also explains why William and Doc McConnell, both sick, were taken in and looked after by the Joel Bowling family.
Katherine B. Hoskins in her history of Anderson County Tennessee said "The first Coal Creek post office was established March 6, 1856, with Joel Bowling as postmaster. Bowling had a large grist mill on the creek and coal land nearby, where he made an entry and mined some coal in the 1850's." Joel Bowling's son, A.H. Bowling, was the first superintendent of the Coal Creek Coal Company established in 1887. One of their mines was the famous Fraterville mine, which, in 1902 (long after A.H. Bowling's superintendency) exploded with the death of many miners, the worst coal mine disaster in USA history. One of Joel Bowling's grandsons was State Senator Bobby Lindsay who in 1939 was instrumental in getting the State Legislature to change, the name Coal Creek to Lake City. It was, at that time, the closest town to Norris Lake.
The style of William Penland's and Joel Bowling's writing was quite interesting. The lack of periods at the end of sentences and of capital letters to start sentences looks strange to us now, but was typical of writing at that time and place. William's penmanship and spelling are generally better than should be expected when you consider that he was probably writing while sitting on a camp stool, a wagon bed or maybe even a tree stump, surrounded by other soldiers. The use of such expressions as "a coming" or "a going" seem quaint to us, but were typical of Southern Mountain English even in the early 1900's. William's vocabulary was certainly broad when you realize that he was reared  on a farm in an isolated mountain valley. Some of his letters look strange to us. For example, his "x" looks like a small capital "H", "y" looks like "[a lower case cursive z]", and his "r" looks like "[?]. The beginning and end of each letter to us seems odd (stilted), but were obviously the result of either schooling or tutorial training.
References:
Manarin, Louis H. (Compiler) N.C. Troups 1861 – 1865 A ROSTER
Rogers, David (Compiler) Reflections in the Water: Coal Creek to Lake City May 1976
Hoskins, Katherine B. Anderson Memphis University Press 1979
Padgett, Guy A History of Clay County North Carolina 1976
———————–
I hope you enjoyed Buford W. Penland's overview of the letters. In the coming weeks I'll be sharing the letters W.C. Penland penned and sent home from the Civil War.
Tipper