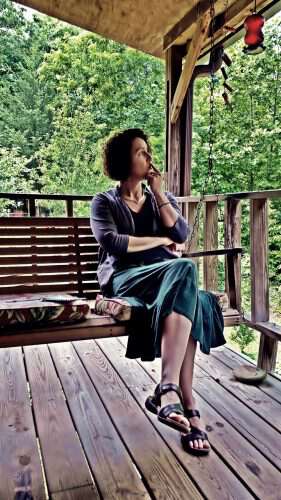 Tipper – sitting in one of her favorite places, the front porch
Adding est to give emphasis to words is beyond common in Appalachia…even when it's grammatically incorrect. Here's what the Dictionary of Smoky Mountain English has to say about it:
-est suffix
1 added to words of two or more syllables, esp -ing participles.
—-
I was reminded of adding est to words a few weeks ago when I said "I'll try to take a picture of all of you, but the girls say I'm the terriblest at taking cell phone photos."
Here's a few other examples for you.
huntingest: Old Blue was the huntingest dog you ever seen. He didn't even care if anyone followed him to the tree when he treed. He was all about the chase.
beatingest: I wouldn't stop down there if I was you. He's the beatingest man in this settlement. Why before you know it he'll steal your britches.
cheatingest: It was all part of a joke, but now you've got the name of being the cheatingest man in Clay County and I don't know what you're going to do about it.
firstest: The firstest beans that come in are always the best of the year.
bestest: Papaw Tony is the bestest at making pickled beans and corn of anybody I know.
importantest: Once she became the head of the place she started thinking she was the importanest person in this part of the state. I hate to break it to her but I know where she was raised up and she ain't no better than I am.
aggravatingest: You just got to love him you can't help it, but he can be the aggravatingest person you ever met.
fightingest: That boy was the fightingest boy in school. That's all he wanted to do was fight. One time he even tried to fight the janitor.
thinkingest: Pap was the thinkingest person I've ever known.
workingest: Pap was also the most workingest person I've ever know.
singingest: I'm glad I live with two of the singingest girls around.
————-
I'm sure I left out some est examples. Help me out and leave a comment with any that come to mind.
Tipper