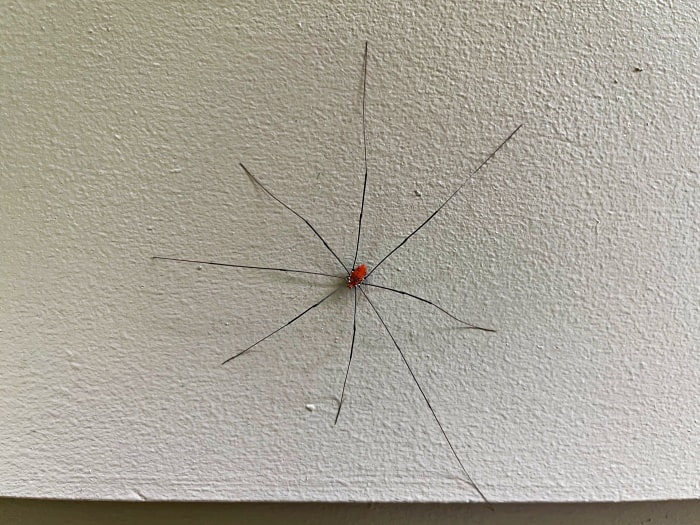 granddaddy noun
2 (also granddaddy grey-beard) The daddy long-legs spider.
1957 Combs Lg Sthn High: Word List 46 granddaddy grey-beard, harvest-man = an arachnid of the Phalangida family. If a boy, sent out into the woods to hunt the cow, gets down on his knees near this sage little creature and asks, "Gran'-daddy-grey-beard, which way has the cow gone?" it immediately lifts one of its elongated feelers and points in the direction of the cow. 1999 Montgomery Coll: granddaddy (know to Cardwell).
—Dictionary of Southern Appalachian English
---
I've always called the spider in the photo a granddaddy. I've heard other folks call it a daddy long legs, but have never heard it called granddaddy grey beard.
I came across the folklore of asking a granddaddy to help find the cows several years ago in the Frank C. Brown Collection of NC Folklore. At the time I asked Pap if he'd ever heard of asking a granddaddy for help. After he quit laughing he said no he must have missed that one.
What do you call it?
---
A big thank you to everyone who commented on yesterday's post about taking the rag off the bush. Nice to know the phrase is still alive and well in some areas although it seems to most often be used in a different manner than in relation to taking a nap. In case you missed it, Lana Stuart shared a link about the unique phrase, you can see it here.
Tipper
Subscribe for FREE and get a daily dose of Appalachia in your inbox