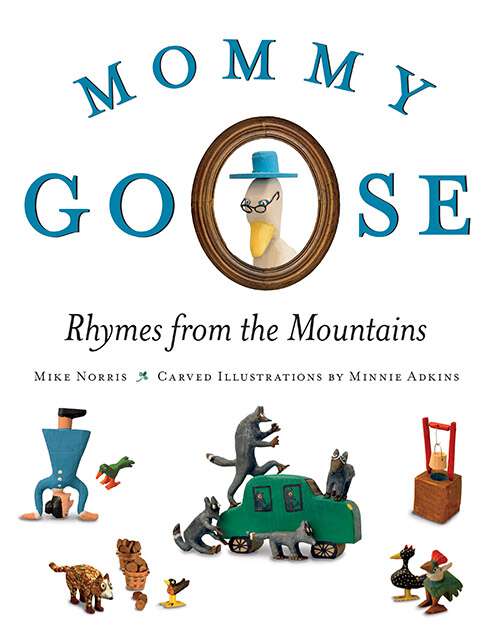 A few months ago I stumbled upon an article about the book  Mommy Goose Rhymes from the Mountains written by Mike Norris. The piece grabbed my attention because as a child I loved nursery rhymes and as an adult I still love them. If you've been reading the Blind Pig and The Acorn for a good long while you'll probably remember my series on rhymes.
Once I realized Mike's book contained rhymes written in the rich colorful language of Appalachia I knew I had to get my hands on a copy and see if it was too good to be true because I figured it was.
The University Press of Kentucky was gracious enough to send me a copy of the book, and Mike sent a CD of the book as well.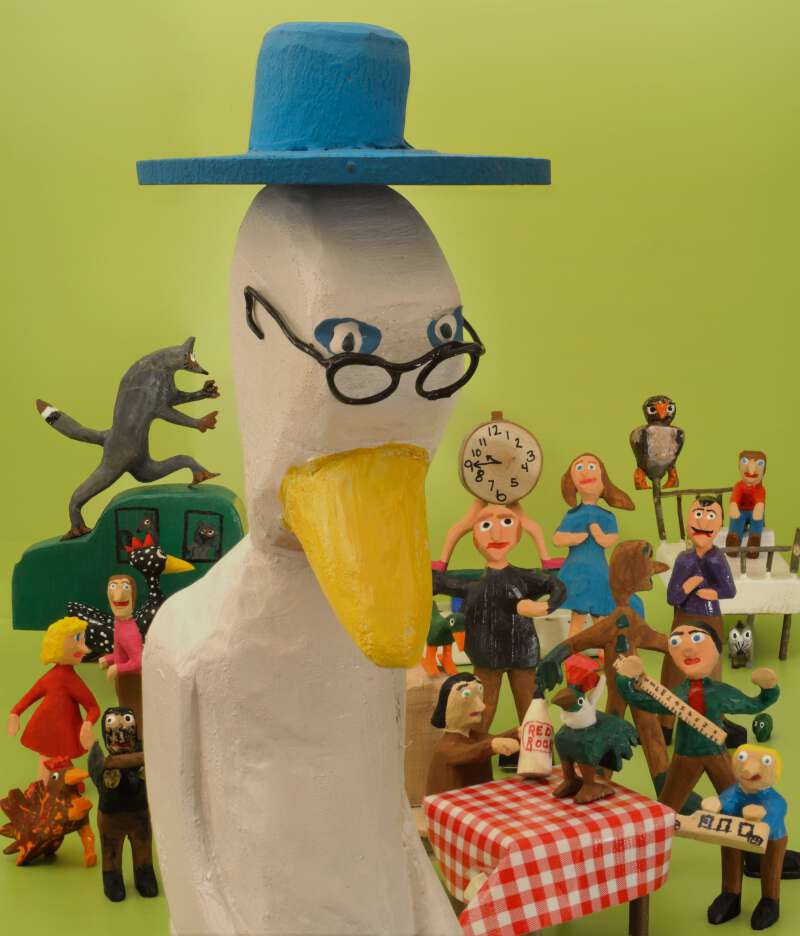 The book is wonderfully illustrated with photos of over a hundred hand carved and painted works by Minnie Adkins who has permanent collections in the Smithsonian American Art Museum, the National Gallery of Art, and the Kentucky Folk Art Center.
The book is filled with 50 original rhymes written by Mike Norris himself.
So was the book too good to be true? Nope it was true! The language Mike uses is so spot on that I embarrassingly told him I thought I had heard a few of the rhymes-which was an impossibility since he wrote them himself.
It's not just the words he uses throughout the book, its the manner they are used in and the subject matter that they weave themselves around that shouted out to me a real Appalachian penned them. Even the title of the book is perfect. I know many older folks, including a few Blind Pig Readers, that still use the word Mommy to describe their mother.
Mike said I could share some of the rhymes with you. It was almost impossible to choose which ones because I loved them all and I had something to say about most of them too.
Little Mary written by Mike Norris
Little Mary wouldn't mind,
And said things to sister that were unkind.
(My hair's prettier than yours.)
She'd stomp her feet and hold her breath,
And scare her mommy half to death.
She grew up and had twin girls,
With big blue eyes and yellow curls.
They were cute at first,
Then acted just like her, but worse.
———–
I loved this one because when I was a child Granny often cautioned me to be good and not end up like so and so who was a mean little girl. I also liked it because I know it would have been a favorite of Chatter and Chitter's when they were small. They were often mischievous girls and would have liked reading about Little Mary and her mean twin girls.
———–
Harlie Creech written by Mike Norris
Harlie Creech was over neat.
He swept the house morning and night.
He ironed his socks and starched his sheets,
And used a yardstick to get the quilts right.
South down the road lived Mildred Mays,
And in that direction Harlie would gaze.
Her hair was perfect, her shoes shinned slick,
But Harlie hesitated, suspecting a trick.
Who knew what horrors lay in store,
Rumpled pillows, crumbs on the floor?
At last his love made him risk the ordeal,
And Harlie invited her for a meal.
He scrubbed the house once, then again.
With trembling hand he welcomed her in.
Then Harlie froze and held his breath,
As Mildred Mays passed the test:
She took one look and said,
"This place is a mess."
———–
Pap would have said Harlie was particular and Mildred was beyond particular.
———–
Cow's in the Barn written by Mike Norris
Cow's in the barn.
Kitten's in the yarn.
Daddy's in Harlan,
Bending his arm.
———–
Mike pointed out to me that towards the back of the book the rhymes touch on the darker aspects of life in Appalachia. As the rhyme above shows Appalachia is no stranger to societies woes.
———–
The Mommy Goose cd contains a song Mike wrote about Mommy Goose. The song along with the music is in the back of the book so anyone interested can learn it themselves. The cd also contains a very nice narration of the book by Mike and a conversation between Mike and Minnie that will leave you smiling for the rest of the day. Me missing Pap is no secret to any of you. Hearing Minnie's sweet voice use so many of the words, sayings, and phrases Pap used was a true balm for my soul.
I asked Mike where the best place to purchase the book and cd was and this is what he said:
"The CDs are only available from me [$10 each] at this email address mike.norris9@gmail.com, or in the Collector's Edition of the books [we have 2 others, Bright Blue Rooster, and Sonny the Monkey] which also have original permanent-inks art by Minnie on page 1–These are $40 each and may be ordered from me or Minnie.

Bookstore versions of the book may be ordered many places online, but Amazon and The University Press of Ky [it's the university press of the whole state, not just UK] are two good sources. Folks can listen to the song for free at this link."
If there is a child in your life or a rhyme loving adult like me I suggest you buy Mike's outstanding book and cd for them. Both items would make dandy birthday or Christmas presents. The cd is more than worth the money for the conversation between Minnie and Mike alone. I hope the talk between them is in an Appalachian Museum somewhere so that it will be preserved as part of our history-it is that good.
Preserving our language is a cause that is near and dear to my heart and I commend Mike for trying to keep our rich colorful Appalachian Language alive.
Tipper