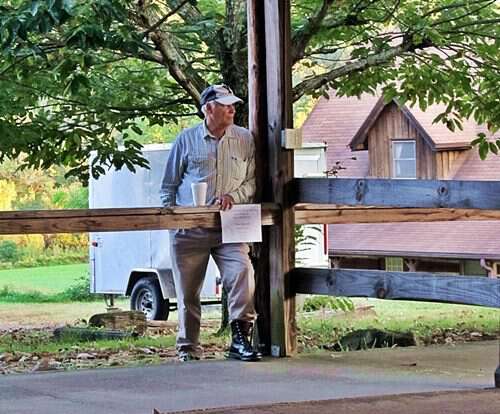 Pap at the John C. Campbell Folk School
Today makes two years since Pap died. I still miss him something fierce.
I wish he was here to offer his wise counsel to me like he always did
I wish he was here to hear Chitter's new fiddle tune and Chatter and Paul's new songs
I wish he was here for me to tell him about how good The Deer Hunter's new job is
I wish he was here to see baby Margaret and talk about all her antics like the rest of us
I wish he was here to take care of Granny now that she's got so feeble
I wish he was here to cook me a pan of fried taters and a stack of pancakes
I wish he was here to help me plan the garden
Over the last two years my grief has certainly lessened. In the beginning I couldn't make it through a day without sobbing and I couldn't concentrate on anything anybody said to me for thinking of Pap. There are still mornings I wake up with him on my mind and am lonesome for him, but overall I've come to accept that he's gone. I'm also thankful that he went the right way you know?
Pap was 78 years old, in other words we had him for a good long time compared to other folks who lose loved ones way to early. Pap lived a good life, he was happy and pleased as he looked back over the years. He was especially pleased with his children and his grandchildren.
As I shared with you last year on the anniversary of his death, Pap was ready to go and he went out of this ole world on his on accord. He was at home surrounded by those he loved and that meant a lot to him.
On those odd mornings when I wake up with a longing for Pap I remind myself he said he'd be waiting on the other side of the shore in the shallow water and knowing he'll be there is a balm for my soul.
Tipper
Subscribe for FREE and get a daily dose of Appalachia in your inbox