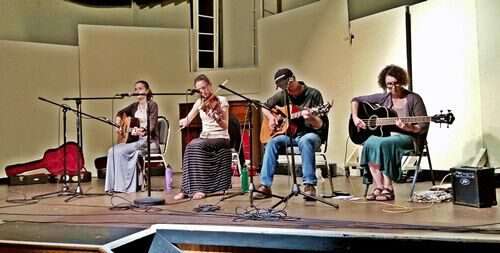 Chatter, Chitter, Paul, Tipper – Bryson City, NC 2017
"In medieval Gaelic and British culture, a bard was a professional story teller, verse-maker and music composer, employed by a patron (such as a monarch or noble), to commemorate one or more of the patron's ancestors and to praise the patron's own activities.
Originally a specific, lower class of poet, contrasting with the higher rank known as fili in Ireland and Highland Scotland, with the decline of living bardic tradition in the modern period the term "bard" acquired generic meanings of an author or minstrel, especially a famous one. For example, William Shakespeare, and Rabindranth Tagore, are known as "the Bard of Avon" and "the Bard of Bengal" respectively."
Wikipedia
———-
We are bards…well we're not actually employed by the monarchy nor are we famous like Shakespeare, but we do tell stories and make music.
A few months ago I was reading a fiction book that had bards in it, the book also had flying dragons but that's beside the point. Anyway I got to thinking about the bard in the book going throughout the land telling stories and singing story songs for the people. I decided what we do isn't all that different other than the computer I visit you through and the instruments we use to make music.
A few months ago Paul wrote a song and he has a humdinger of a story to tell about how he wrote it…and actually the song is a story too so I guess you could say it's a story within a story. I'm planning on letting Paul tell you about it this Sunday for our Picking and Grinnin in the Kitchen Spot so be sure to tune in.
Tipper the Bard of Brasstown
Subscribe for FREE and get a daily dose of Appalachia in your inbox