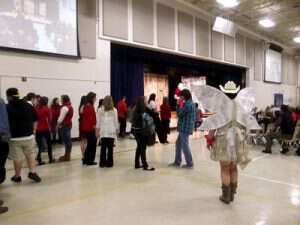 Last night Chatter and Chitter's school held a Holiday Spectacular for the community.
The Dramatic Literature Students had the audience in stitches with their performance of Beauty IS A Beast (yes that's a cowboy hat cowboy boot wearing fairy god mother you see in the photo).
The Band Ensemble filled in all the spaces with some outstanding Christmas songs. And the School Chorale blew us away with their beautiful voices (you know 2 of those voices were Chatter and Chitter's).
The whole gang of students put on such a good show-I swear they could take it on the road and make some money with it. It really was that good.
Even though the show was laced with humor throughout-I found myself almost crying. Crying over the preciousness of the talent on and around that stage. Crying over the preciousness of those teenagers-at a time in their life that they will forever look back on.
I kept remembering what it felt like to be a teenager-you know one those good moments of teenage life when you felt you were on top of the world-everything was going good and the future was so bright you might have to wear shades?
As I watched the students last night, I knew my moment of feeling the future stretches on indefinetly was over-but I could see that feeling on their faces. And with the small amount of wisdom my years have given me-I seen very clearly they are my future. They are the future of my Appalachia-and I do believe I may have to find my shades because once again my future looks very bright.
Tipper
Appalachia Through My Eyes – A series of photographs from my life in Southern Appalachia.