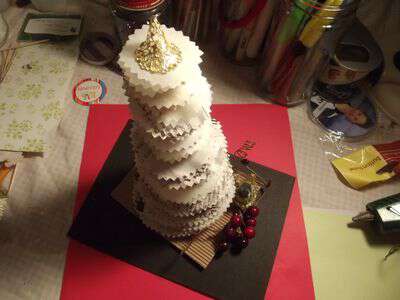 I enjoyed all the things Chitter and I made during our day of Christmas crafting-but my favorite was the paper Christmas trees we made.
I love working with paper-and I love working with things I already have on hand. Over the years I've seen several variations of this particular tree-most all of them suggested using a wooden dowel. I found old pencils-wooden skewers-and even sturdy sticks work just as well.
So you need:
a piece of cardboard cut into a square-close to the size you want the circumference of the bottom of your tree to be
paper-various thicknesses and colors make for a more interesting tree but use whatever you have-even old magazines and newspapers work well
a pencil, dowel, or other item that would work for the tree structure
hot glue
a small tree topper-could be a star made out of paper or tinfoil-a bead-a pine cone-or any other thing you come up with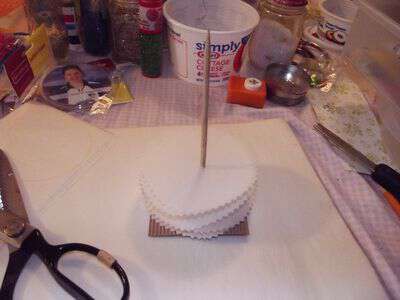 First thing-glue your pencil/dowel to the square piece of cardboard. I squeeze out a pretty good amount of hot glue and then just hold the piece of wood upright till it dries enough to stay upright.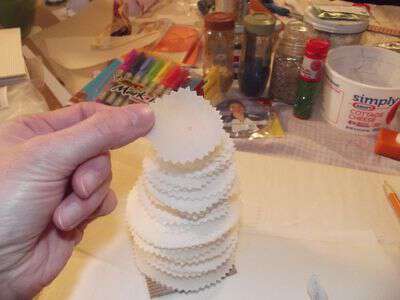 Next cut your paper into circular shapes. You need at least 3 different sizes-think of the shape of a Christmas tree. Large, medium, and small. I used pinking shears-but I think regular scissors work great too.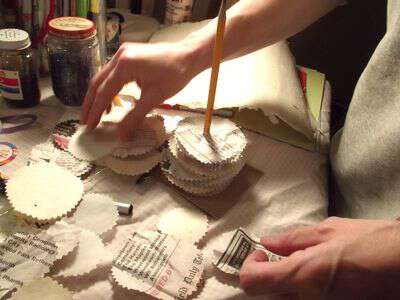 Then-just start layering the papers by forcing them over the pencil/dowel or whatever you choose to use.
This type of tree is supposed to have that vintage homemade look-so don't worry if one circle is lopsided or off center. Continuing layering till you reach the top-I had to stop and cut a few more circles on the way up.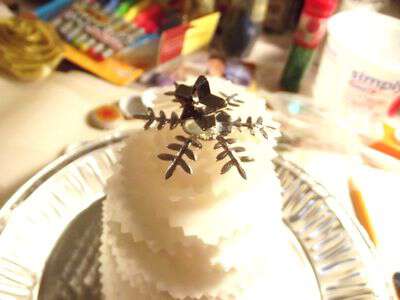 Once you've reached the top-find something to top it off with-I've found the junk drawer is a perfect place to find a suitable tree topper. For this one I used part of an old plastic flower and a star that had popped off something or other.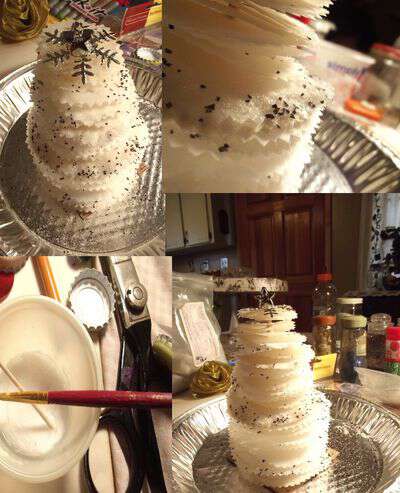 You can leave the tree as is-or you can dab glue on the edges of the circles and sprinkle with glitter for a sparkly look. Am I the only person who believes glitter reproduces?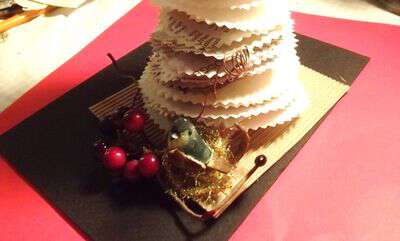 You can also decorate the edges of the cardboard-with presents or other trinkets. I found the little birdy and decided he looked especially cute on this one.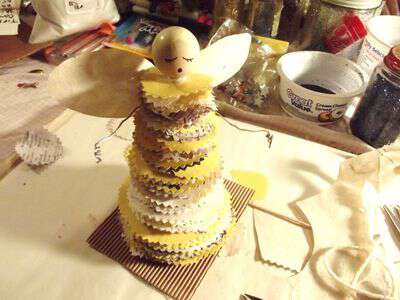 As I was looking for a topper for one of the trees, I came across a small head-I popped it onto one of the trees-added arms and wings-and I had an Angel.
I like using things I have around the house-like scrap paper, cardboard, and pencils that no one will use because the eraser is gone. If you're into being green-this is a great project. I'm mostly into being cheap.
The John C. Campbell Folk School used tons of paper to decorate for Christmas this year. They used old catalogs to make some amazingly pretty things. Go here to see the photos-and you can download their free pdf to make your own Christmas chicken.
Tipper