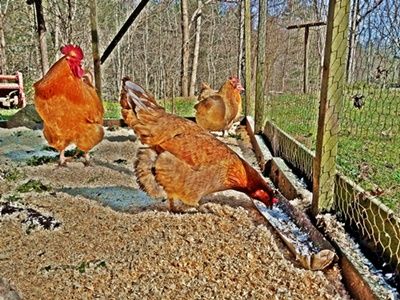 It's been forever since I told you anything about our chickens. We still have them. Unbelievably we still have two of the original hens, Polly and Gertrude. They're still laying pretty green eggs and they're still feisty.
Rex turned out to be a very mean rooster. He was full game and got so bad the girls and I refused to pay the chickens any attention. The Deer Hunter finally caved to our whining and Rex ended up living in Junaluska where he had more room to roam. But even that didn't change his devilish ways.
For the next couple of years we didn't have a rooster. The Deer Hunter bought three Buff Orpingtons from a fine young man living just up the road from where Rex vacated to in Junaluska. A rooster (see him in the photo above) and two hens.
The hens lay pretty brown eggs and the rooster couldn't be nicer. He takes care of the hens and only does his side step drag wing thing at The Deer Hunter. We named him Bo, but I think we should have named him Dapper Dan. He has the prettiest orange feathers you ever seen. I swear it looks like he puts a fresh coat of sheen on every day.
When we first got chickens, Pap said we'd never keep them alive so close to the woods. We have lost several chickens over the years, but all have been from natural causes or aggression from other chickens, which I guess is a natural cause too.
Not that critters haven't tried to get the chickens. In fact they've tried so much that we've started piling rocks and boards around the base of the pen to stop up the holes. The weather has deteriorated the wood on the lot and as time goes by its easier for night time visitors to find a way in. Thankfully their house is still tight and since they're locked up at night they're safe at least in the darkness.
We wanted to re-do the chicken lot last summer, but between the rain and our busy lives it never happened. It pretty much has to happen this year or Pap's warning will most definitely come true and I'll no longer have my wonderful backyard eggs.
Tipper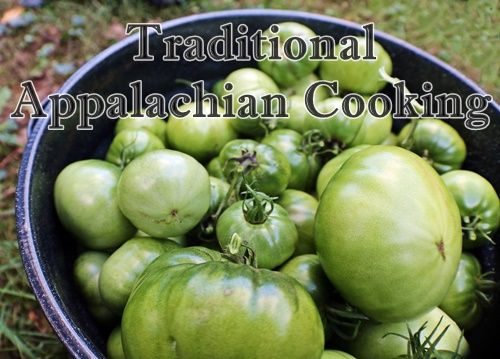 Come cook with me!
MOUNTAIN FLAVORS – TRADITIONAL APPALACHIAN COOKING
Location: John C. Campbell Folk School – Brasstown, NC
Date: Sunday, June 23 – Saturday, June 29, 2019
Instructors: Carolyn Anderson, Tipper Pressley
Experience the traditional Appalachian method of cooking, putting up, and preserving the bounty from nature's garden. Receive hands-on training to make and process a variety of jellies, jams, and pickles for winter eating. You'll also learn the importance of dessert in Appalachian culture and discover how to easily make the fanciest of traditional cakes. Completing this week of cultural foods, a day of bread making will produce biscuits and cornbread. All levels welcome.
Along with all that goodness Carolyn and I have planned a couple of field trips to allow students to see how local folks produce food for their families. The Folk School offers scholarships you can go here to find out more about them. For the rest of the class details go here.
Subscribe for FREE and get a daily dose of Appalachia in your inbox