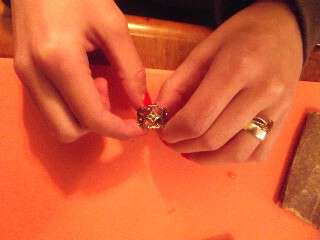 A few months ago I saw a tutorial in a magazine, Country Living I think, to make button rings. It seemed so simple the girls and I decided we had to try it ourselves.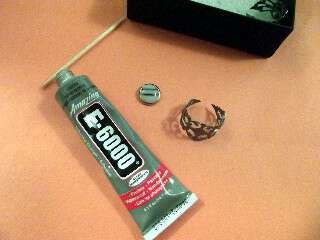 We bought a pack of adjustable gunmetal filigree ring bases from this Esty seller; picked up a tube of E6000 industrial strength glue; found an old sheet of sandpaper; and grabbed our box of buttons and assorted treasures.
Once we had all the necessary supplies we spread out a sheet of paper and got to work.
First step-lightly sand the surface of the ring-and the surface of the button or other item you choose to use.
I decided to use a button that had come off one of the girls shirts; Chatter chose a button that came off one of their old dresses; and Chitter made two rings-she used part of an old hair bow they had but never used for some reason and a button I think one of you may have sent us in a pack of buttons a while back.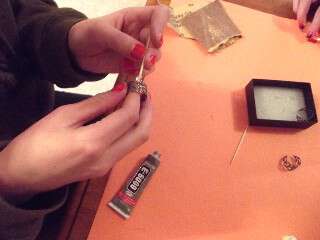 Using a toothpick spread a thin layer of glue on both surfaces; allow glue to sit 2 minutes. After 2 minutes press the 2 surfaces together and allow to sit for at least 24 hours.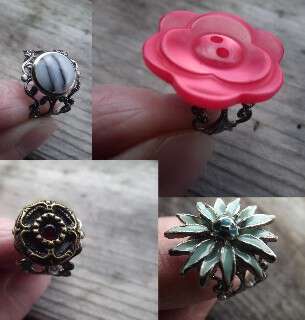 Don't the rings look great! It literally only took a few minutes to make them-a perfect project for kids of any age; for mother's day gifts; or for any kind of gift; or just to wear. Cheap-easy-and attractive hard to beat that.
Even though we used industrial strength glue, I have my doubts about the bond holding. Definitely not a ring to wear while doing any type of manual labor, but beautiful to wear any other time.
Tipper