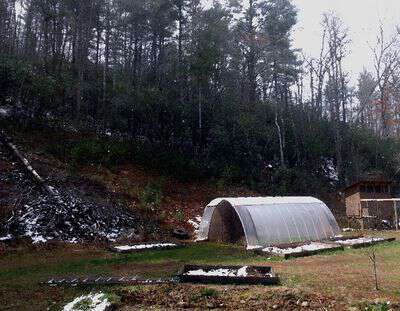 I believe all my talk of spring last week-made old man winter mad. This week he's decided to come back to western NC with a flurry of snow, wind, and freezing temps.
I went back in the Blind Pig & The Acorn archives to see what I was doing this week last March. I had lettuce and spinach growing in the garden-and a greenhouse full of growing tomato plants.
This March-I have nothing in the greenhouse-not one thing! Weekend before last Chitter helped me plant some lettuce, radishes, and beets. But I haven't even checked to see if they've come up yet. I'm afraid all the consecutive nights of below freezing temperatures may have been to much for even the spring veggies.
On the bright side-hopefully the colder spring has kept the apple trees-blueberries-and grapes from budding out too soon and getting bit like they did last year.
How about at your place-any gardening yet?
Tipper
p.s. Even though I'm worried about the garden-I am totally not complaing about the snow-I love it!
Appalachia Through My Eyes – A series of photographs from my life in Southern Appalachia.