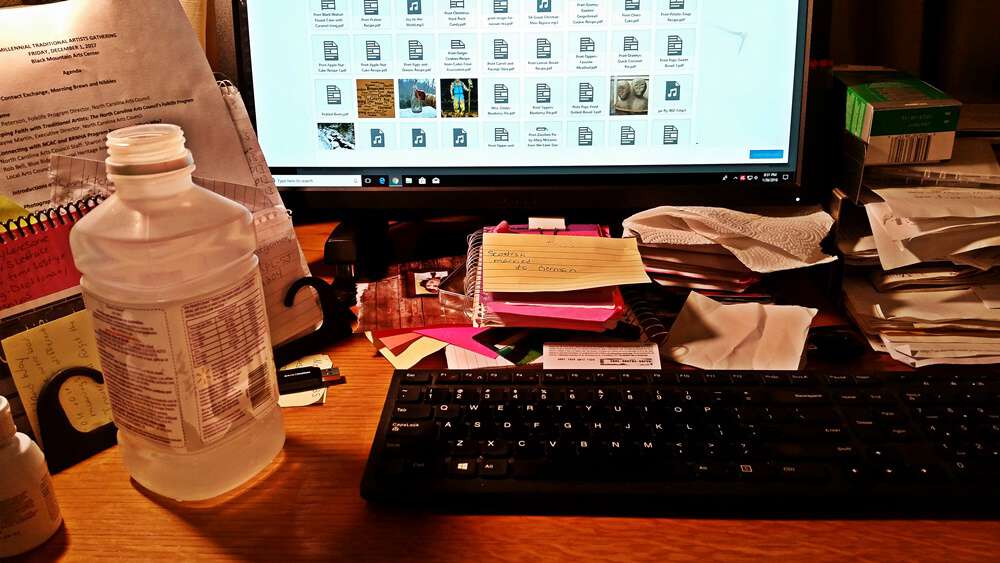 Have you ever seen a messier desk? I admit it's mine. You can see my water bottle. I've always been a water drinker but after last summer's illness I drink up to a gallon a day now so a bottle is always with me. There's a jump drive that I'm supposed to put something on for Paul, but I can't remember what it was. There's a yellow sticky note with an unusual word a friend mentioned to me this week. She wants me to find out if you've ever heard it so be on the lookout for a word question coming your way. There's a magnifying glass hiding under my notebook of important information. Why? Because I can't see nothing! I'm one of the lucky individuals who never had to worry a thing about my eyesight…until I hit 43 years of age. It's all been down hill from there. There's a napkin where I ate a crumbly cookie while working last week. There's my file organizer full of post ideas. There's a pile of pictures I meant to scan into the computer…about three years ago.
Since I'm sure you're tired of hearing about my messy desk here's some other information for you.
If you access the Blind Pig through Feedly you may have noticed my blog posts aren't showing up.  It seems they have both the old site which no longer exists and the new site are under the same feed url. If you try to find the new site Feedly says "Hey you're already subscribed!" But you're really not. The best bet to clear up the issue is to unfollow and then try to find the new blog to follow back. You should be able to tell by the new look.  A big THANK YOU to Chris for figuring all this out for me!
The same issue is happening on Bloglovin. So if you follow me there you're not getting the updates either. I haven't been able to figure out how to tell Bloglovin the Blind Pig moved. But I'm working on it!
I'm excited about the 2018 gardening year! Are you? I ordered my seeds today. Sow True Seed has once again signed on to sponsor the Blind Pig and The Acorn's garden and I'm glad! I ordered a few new items to try and I'll be sure to tell you about them.
On the picture front I've almost made it through 2016 I think I'm in the month of April so only 4 more months to go and I'll have another year done.
As I go back through the posts I wonder if I should delete the ones directly related to Typepad? In one way I think I should, I mean if someone reads the post about Typepad being kidnapped (remember that mess?) they'll think, this is a wordpress blog what's she talking about? But in another way I think I should leave the archives alone without worrying about every mention of Typepad.  At the moment I'm leaning towards the latter thought.
Hope you enjoy your Saturday! On the top of my to-do list is to clean my messy desk.
Tipper
Subscribe for FREE and get a daily dose of Appalachia in your inbox