Today's guest post was written by Ethelene Dyer Jones.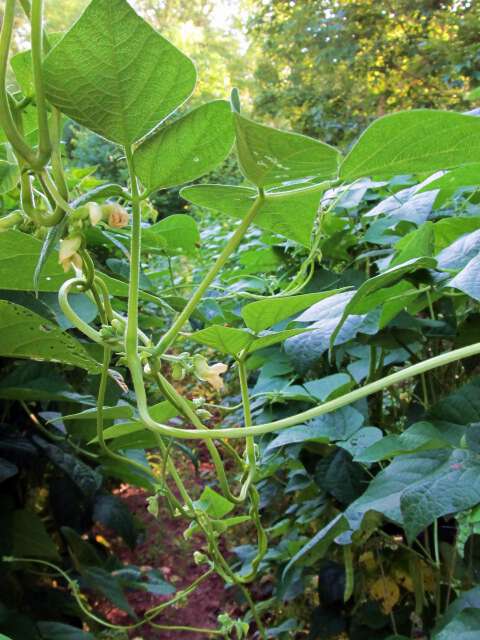 I just now accessed Charles Fletcher's delightful "New Ground," and it brought back memories of my Daddy, Jewel Marion Dyer, of Choestoe, GA, Union County, clearing "new grounds" in our 200 acres of land when I was a child. I must have been about 6 (the same year I went with Daddy as he used the "Divining Stick" to find the place to dig for the spring when our well went dry.) Daddy wanted an acre or more patch to plant beans "for market." The bean patch was to be still another of the several "money crops" we raised on our Choestoe farm. The large fields along the Nottely River were mainly planted in our main crop, corn, and in "Blue-Ribbon Cane" for making sorghum syrup which my Daddy made at his syrup mill in the fall for all the farmers in a large radius from us who brought their cane for him to make into sorghum syrup "on the shares."
But back to the bean patch: Daddy and some neighbors (who always helped each other in such endeavors) cut trees off the measured-off acre of land. Some of the trees were big enough to snake to the sawmill and have sawed into timber. The tree-cutting and clearing of the land happened in the late fall/early winter after all the crops were safely in. It would take awhile to clear the land. First cutting the trees. Then, small as I was, I had the job of "piling the brush" on top of stumps. This would be set afire to get rid of the brush, but also to "burn down" the stumps of trees, and eventually get them removed–one of the hardest jobs of clearing the new ground. It seems like it took two or more years, ridding the trees, first; then the brush; then the stumps and roots.
Finally, finally, Daddy thought the acre was in good enough shape to "turn" (with the turning plow, both horses hooked up to it). He still discovered roots aplenty, and more digging and grubbing had to be done. But finally, he was "satisfied" (a good mountain word he used to approve of an operation like this big "land-clearing") and the ground was read to "lay off" in rows, scatter the fertilizer in rows and "stir it into the ground" and plant the bean seeds–seeds that would yield green beans to be picked, measured into bushel hampers, then put into feed sack bags and hauled to market, all the way to Gainesville "across Neal Gap" on the new highway that came in sight of our farm even before I was born (road finished in 1925).
I liked everything about our "new ground" except one thing. Well, you expected me to say "the hard work," didn't you? Not the hard work, because we were "brought up" to work; and if we needed a reminder, we were quoted scripture to the effect "Whatever thy hand findeth to do, do it with thy might" (Ecclestiastes 9:10). But some days, my mother would send me to the "bean patch" to pick a "mess" of beans so she could cook them for our family and whoever the work hands were my father had doing farm jobs. I took my pail and obediently walked through the woods to the wonderful, well-producing bean patch. But lo, I couldn't help but be scared the whole time I was there picking beans, and I hurried to fill the pail and get safely back home to my house.
Was I afraid of wild animals that might spring forth from the woods surrounding the bean patch? No! Daddy had thoughtfully put a good fence around the acre patch to try to keep wild animals out (although I think some could scale the fence with relative ease).
The fear came to the young child (I was maybe 7 or 8 years old by this time) because, just northeast of the bean patch, lay a tract of land that somehow I had a deep-seated fear about. You see, Old Choestoe Cemetery where many of my ancestors were buried (early settlers to Choestoe even before the Cherokees were removed on the "Trial of Tears") had their resting places in that cemetery. Looking through the trees and up to Old Choestoe Cemetery, I could see my Grandmother Georgianne Hunter Collins's white tombstone. I could also see several others' stones, whose names I will not mention here.  My Grandmother had died before I was born, and my mother gave me the name Georgianne Ethelene after my Grandmother, and her sister, Ethel.  Somehow, in my child's over-active imagination, I thought Grandmother might want to come forth from the grave and get acquainted with me, who worked so hard within sight of her burying place, to pick a mess of beans for "dinner" (what we called our noon meal on the farm in Choestoe).
Well, I really did want to meet my Grandmother Georgianne, for I had been told beautiful tales about what a sweet, hard-working woman she was, stately and a good wife, mother and neighbor to all. But somehow, I didn't think I wanted to meet her in that beanpatch, with me the only one to see.  And after all, she had already been dead since October 3, 1924, and I was picking beans in the summer of 1938. Fourteen years had been a long-time gone for a dear grandmother.
Such is the imagination of an 8-year old child. I did remain to fill my bucket, left the bean patch, remembering to latch the gate behind me, and hurried through the woods trail to my house where I helped my mother string the beans and get them ready to cook for our family's noon meal.
The New Ground was a place that yielded well through many years, as long as my father was able to cultivate the "cleared acre." He was still growing beans on that acre and taking them to market the year before his stroke that debilitated him. My mother, Azie Collins Dyer, died February 14, 1945 at age 49. My father died September 4, 1974 at age 84. I grew up happy on our farm in Choestoe, and am grateful for my Appalachian heritage.
Ethelene Dyer Jones – March 2017
————————–
I hope you enjoyed Ethelene's memories of clearing new ground as much as I did!
Tipper