Today's guestpost was written by Charles Fletcher.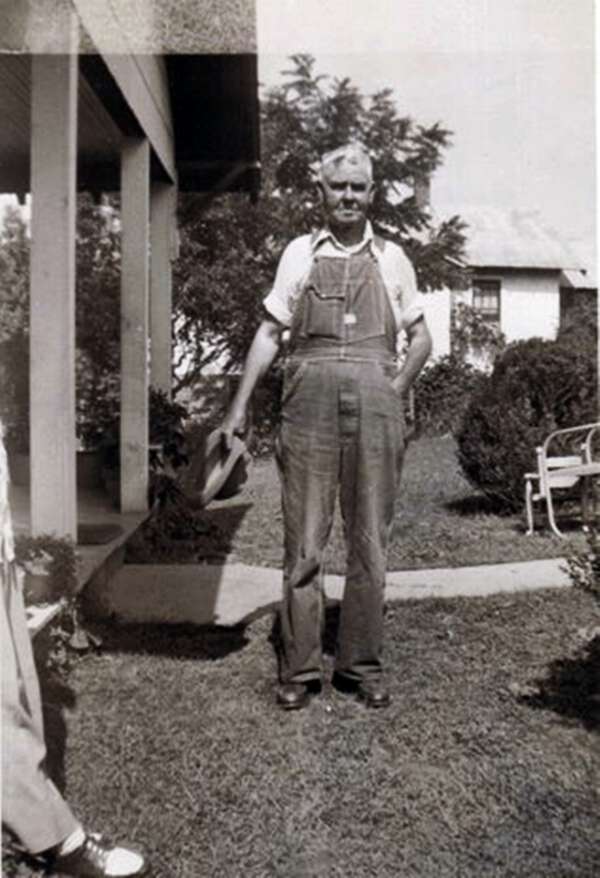 Charles Fletcher's Grandpa Pressley in later years.
Grandpa Pressley's New Ground written by Charles Fletcher
When I read Tipper's article about New Ground it reminded me of a true story that happened over eighty years ago.
Looking to the left while traveling down old highway 19-23 going south toward Clyde from Canton North Carolina you can see a range of mountains called, PRESSLEY MOUNTAIN.
The west side of this mountain belonged to a wealthy family called Patens. The east side belonged to my Grandpa "Charlie Pressley" where he and his family lived.
The Paten family owned all the land from Canton down the Pigeon river nearly to Tennessee. They had the largest plantation home and even had their private slave cemetery where they buried their slaves when they died.
On the other side of the mountain the Pressley's depended on farming the land for a living.
It was at one of my many visits to Grandpa Pressley's that I remember helping him with his NEW GROUND.
The youngest of his eight children, (three girls-five boys) was Clifford. Clifford was a little over one year older than me. We always enjoyed being together and always found ways to have fun.
It was on this visit that Grandpa Pressley had Clifford and me helping him in his latest NEW GROUND. They had worked all the winter removing the trees and brush, had used their old mule for plowing. It was about ready for planting and ready for placing the scary Crows in the field to keep them from eating the seeds.
"Going back to the house and fetch the corn seed. You boys stay here until I get back." Grandpa said to Clifford and me.
Now no one expects two young boys to lay around doing nothing.
They were discussing the western movies they would see every Saturday in town if they could save at least ten extra eggs that they could get the dime cost of the movie. The grocery stores would give us a penny each for eggs.
While discussing the horse riding and the calf branding Clifford said to me. "I heard some cattle up here somewhere. Let's take a look."
When Clifford an me topped the mountain there was cows all over the mountain side. Big cows and steers-little calves and middle size steers.
"Let's ride one of them small steers," Clifford said to me.
"We don't have a bridle for their head." I said to Clifford.
"We'll make one with the scary crow," Clifford said to me.
The halter was made, a small steer caught and had a bridle on him when Clifford said. "You can have the first ride. I'll ride next."
I was setting on the steer and Clifford turned it loose. Here goes the steer straight down that mountain side kicking and twisting. Suddenly he stopped, over his head I went, directly into the biggest blackberry patch on Pressley Mountain.
Clifford helped me out of the brewers and said. "Guess we better get back to the NEW GROWND before Papa gets back."
Grandpa came back with the corn seed, we helped plant them and returned back to the log house where Grand Pa and his family lived on the side of Pressley Mountain.
This was my first and also my last NEW GROUND I ever helped with.
written by Charles Fletcher
————————
I hope you enjoyed Charles's memory about working new ground.
Tipper