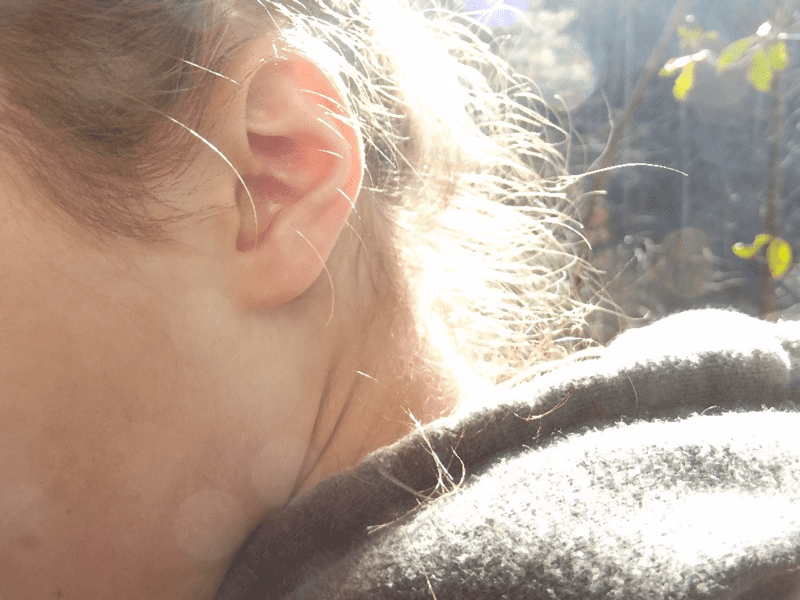 "Doney-gal means sweetheart, an expression British sailors picked up in Spanish or Italian ports and preserved by backwoodsmen whose ancestors for two centuries never saw the tides." 
-John Parris Roaming The Mountains
————-
Doney-gal isn't a phrase I'm familiar with-never heard it-never even read it. Yet when I read the quote from Parris I immediately thought of the photo above. I snapped it 2 years ago when the whole Blind Pig family was out for a winter hike. I love the image of the sunshine shinning its warmth on Chatter's sweet ear-the pieces of hair halo-ing her head.
Chatter was born with the sweetest disposition of any one I have ever met. I'm not putting Chitter down in any way shape or form-Chatter just has a special sweetness about her that I've rarely seen. When she was just a toddler I started telling her I thought she had a special gift of sweetness.
One day I found Chatter crying in her bed. Alarmed that she would be crying all alone at such a young age I asked her what in the world was wrong. She looked up at me with her tear streaked chubby little cheeks and said "Momma I'm afraid I'm losing my special sweet gift because I've been mean." I grabbed her up, hugging her tightly, while I laughed and cried and did my best to explain that just because she had done something she shouldn't have didn't mean she had lost her sweet gift. I told her I was positive she'd never ever lose it and so far my prediction has been right.
Parris used the doney-gal quote in an article titled Mountain Idom Fading. In the years since he wrote the article I suppose the term has completely fallen away from the rich language of Appalachia-hence the reason I've never heard it.
I did a little googling around to see if I could find out any other details about the usage. I didn't find much, but I did find a traditional song credited as being from Appalachia that uses the term-the song is titled Wedding Dress. I couldn't find any historical information on it either.
The ultimate day for doney-gals is coming up quickly: Valentine's Day. Maybe we can make a come back of the usage by calling our own sweethearts-whether they be true sweethearts or simply sweet girls in our lives-doney gals as part of our Valentine's wish to them.
If you'd like to hear the song I found-I like it a lot-go here: Allan Block and Martha Burns, "Wedding Dress Song." (you may need to stop the music player on this page before you watch the video-the music controls are along the top of this page on the far left side-just under the Blind Pig logo. Click the center round button to stop the player)
So are you with me on trying to bring back the phrase doney gal? As for me-I'll be wishing 2 doney gals who live in my house a happy Valentine's Day.
Tipper