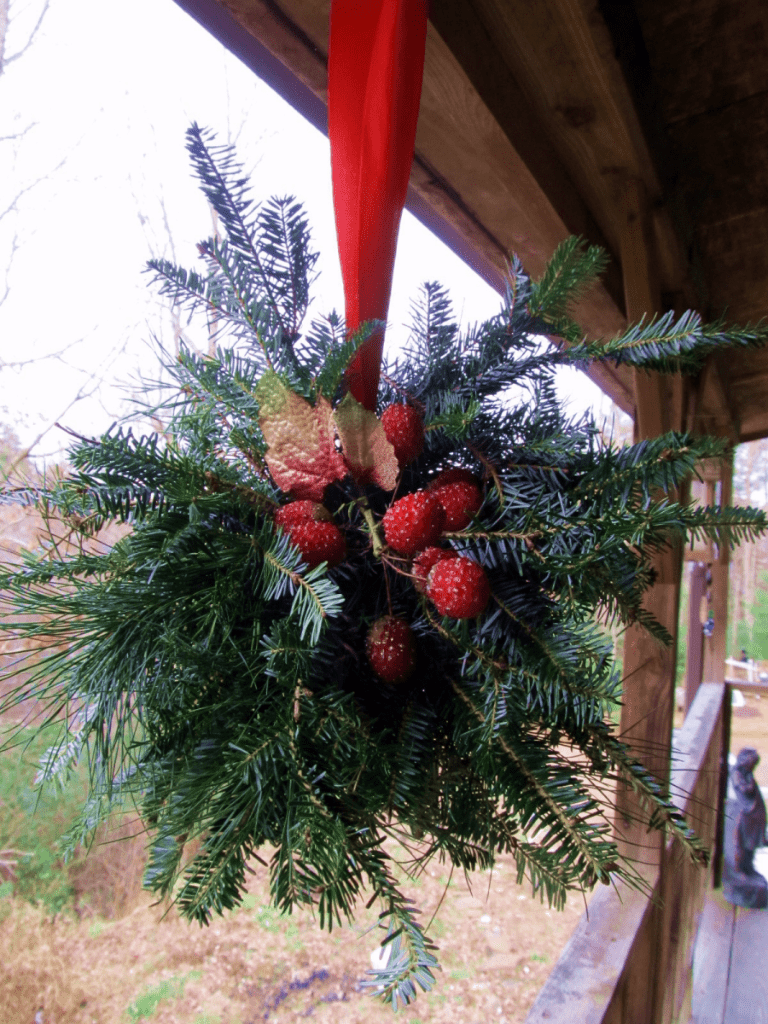 It was back in December of 2010 that B.Ruth sent me the follow email:
I use pine, cedar, magnolia, balsam, etc. for making door decorations, etc. Last Christmas I made a potato bough for a hostess gift. Just wrap a piece of wire around a large potato with a loop for hanging..sharpen the ends of your greenery, I added a few sprigs of mistletoe and holly, poke them in the potato filling in bare spots, attach a bow…and you have it. The potato keeps the greens fresh through the holidays. It was a great success with the hostess…except all the gals there wanted me to make them one…LOL

My Dad and Mom said when they were children in NC that ground pine/cedar was used to make most greenery for the home as well as other natural pine, balsam and fir.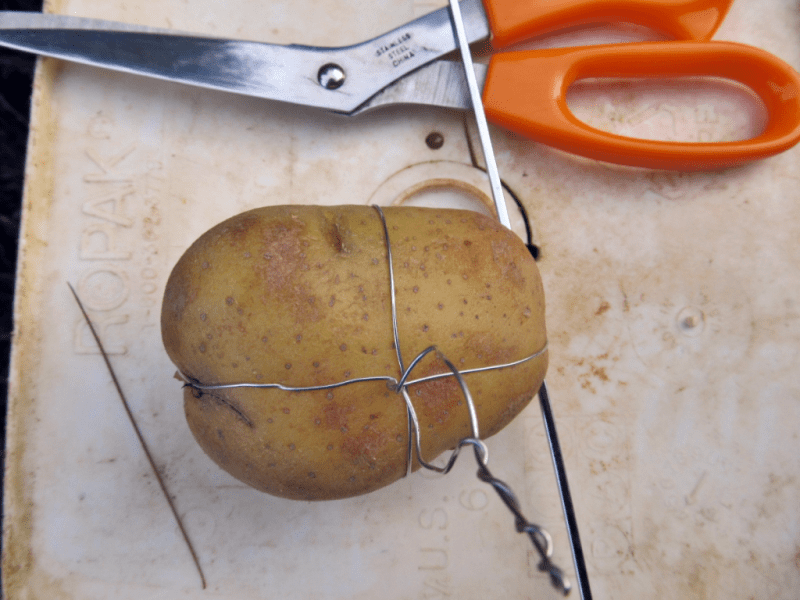 Ever since I read the email I've wanted to try out B.Ruth's directions for making a Christmas Bough to hang in my home-last week I finally made one.
I used a small potato-because I knew I didn't have much time and thought that might make the process go a little faster. I wrapped wire around the potato forming a hanger as B.Ruth directed and then I set about putting holes in it with a metal skewer.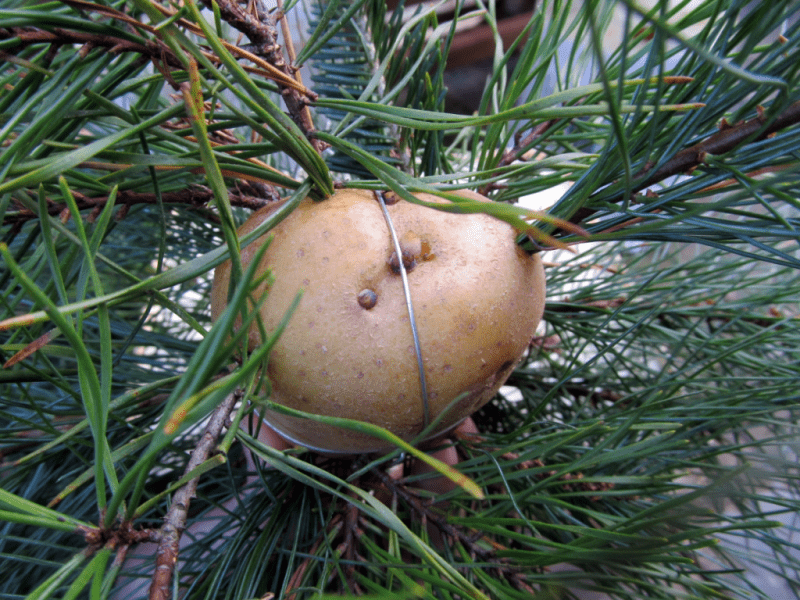 I cut a few branches of white pine and a few branches of what we call jack pine-not sure that is it's real name-but they grow abundantly around our house. Mostly I used the pile of spruce trimmings The Deer Hunter cut off our Christmas tree when he was putting it up.
Once I had several pieces stuck in the potato I started making the holes just before I inserted the next piece of greenery.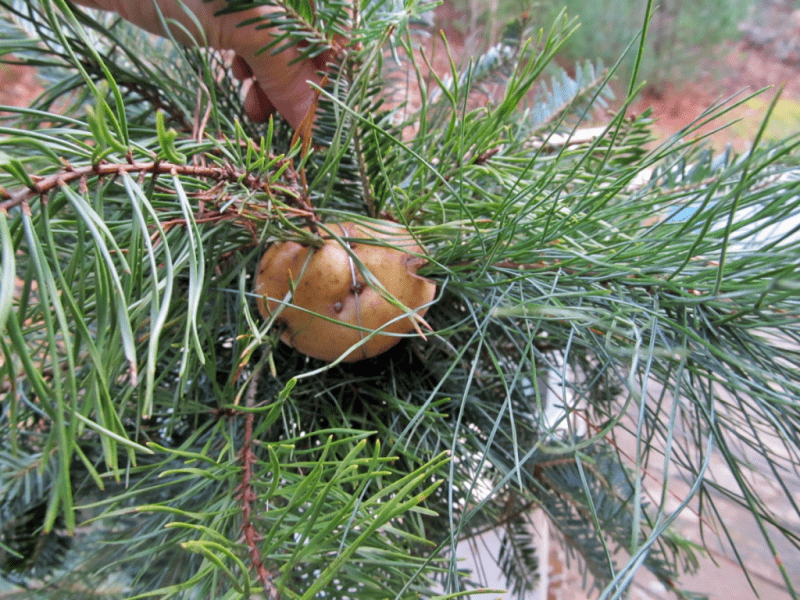 At about this point in the project I was getting a little bit worried. I thought this ain't nothing but a mess! I felt like I was making a crazy haired potato head…but I knew B.Ruth doesn't fool around when it comes to creating so I persevered.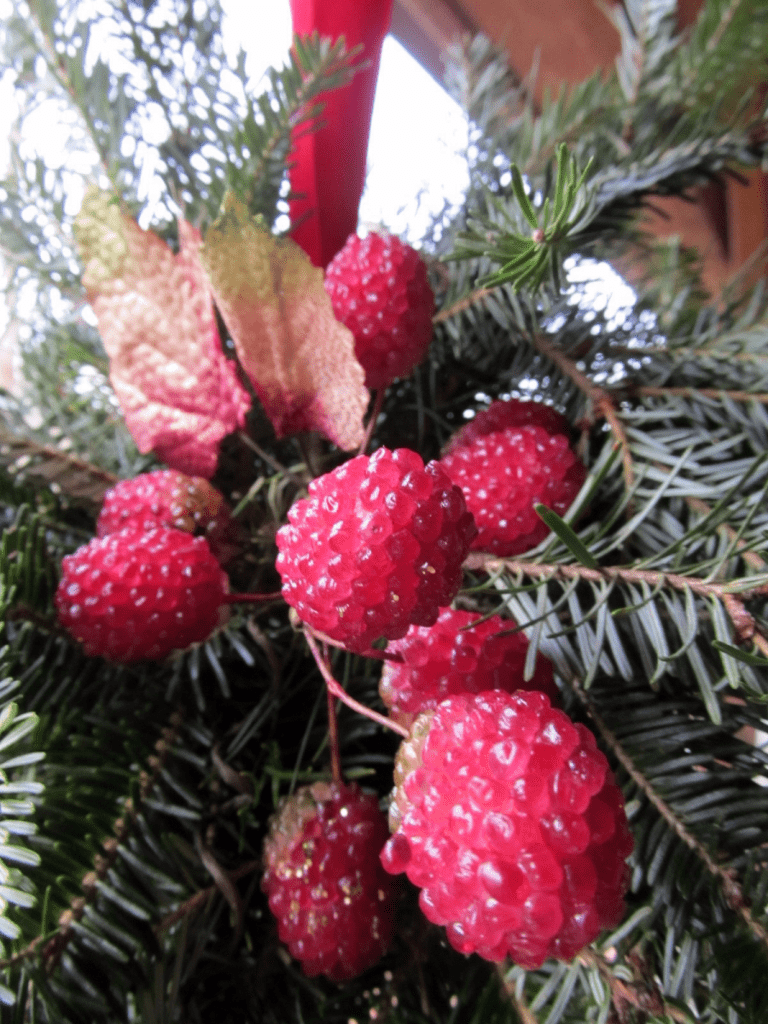 Once I had the potato covered I knew it was going to be the perfect Christmas Kissing Ball. I had a red ribbon that came with a pair of pajamas the girls got at The Pressley's Christmas Dinner. I looped the ribbon through the metal hanger B.Ruth instructed me to make-so smart to make it first! I would have tried adding it at the end and been in a real mess.
I decided the ball needed a little more color. I rummaged around in my stuff and found the fake spray of sparkly raspberries. I stuck them in the metal hanger and gave it a twist to secure.
I was so pleased with how the Christmas decoration turned out. I especially loved using things I already had-potato, greenery from the bank and the Christmas tree, wire, the stick of berries, and the ribbon I saved from the pajamas.
Thanks B.Ruth!
Tipper