Today's guest post was written by Don Casada it is the second piece of a 2 part series. If you missed the first part-go here to read it.
———————–
Sarah Crisp's new wood stove
Pearl recalls that her mother had a wood stove that gave out not too long after they built this place (it had been carried up by sled from an old home that they'd rented down on the banks of Pilkey Creek). The stove developed a hole in the firebox – perhaps the most common failure mode. So her parents walked down the rough sled road out of the holler, past that big old beech tree, on down the Pilkey Creek wagon road to Dad Collins general store where they caught a taxi to Bryson City. They went to a furniture store located just above the square in town, and picked out a fine new one – with the stipulation that it was to be delivered.
For those familiar with Bryson City in the 1960s and before, the store where the Crisps bought the stove was Browning Furniture. The Yummi-Yummi Chinese Restaurant is now located there.
Pearl says the very first time that a truck ever came up in that holler was when the driver brought that stove in there a couple of days later. He came all the way up in there, jockeyed the truck around and got it backed up to the rock wall below their house and then several of them carried it up to the house. After having walked up and down that old sled road myself, I suspect he may have lost two or three hubcaps, a muffler and some tailpipe getting in and out. I'd love to have been a fly on the wall when he got back to report Mr. Humphrey Posey Browning about the trip.
Now Sarah Pilkington Crisp loved that new stove. When TVA took their land in 1944, there was no doubt about it – that stove would come out with her. She and Miles moved to their new place out off of Franklin Grove Church Road west of Bryson City – on a side road that is now, appropriately, called Crisp Road. Years later, Pearl and her siblings tried to talk their mother into letting them get her a new electric stove. Sarah replied, in characteristic self-reliant mountain fashion "I'll have you'uns know that if I wanted me a new stove, I could buy it myself. I know how to cook on this stove, and I don't need a new one – this one works just fine."
When Pearl and her children speak about Sarah, words like stubborn, contrary, and set in her ways are liable to come out. But when they do, you hear more than just a little pride in their voice.
And I'll be dogged if I'm not proud for them.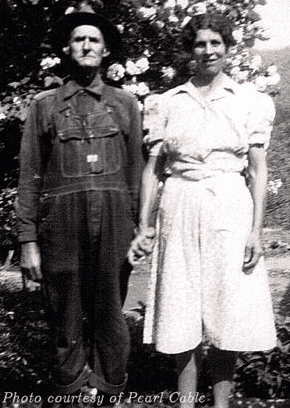 Miles and Sarah Crisp. Miles standing erect like that reminds me of the chimney at their place.
I once asked Pearl if her parents would treat them to a little hickory every now and then. Pearl said her father  "was a gentle man – the best man that ever was" and only whipped her one time – and that was for throwing a sweet potato up against the barn in a temper tantrum.
But she quickly added "Now my mom would get in there and thrash around amongst us." Sarah Crisp was clearly a lady, but she also looks to me like she could do some serious thrashing when it was called for. Pearl tells me that she and her mother together, wielding a double-handled crosscut saw, went through a many a cord of firewood. I never knew her, but from everything I've heard, I'd bet a nickel that Sarah Crisp was getting her own stove wood up until the day she died – March 13, 1965.
One final note here….
Take a look at Miles Crisp in the picture above. Remember the photo and story of the chimney from yesterday? (if you missed yesterday's post go here to see the chimney) Huston Nelms may have put that chimney up, but in my mind, that chimney stands there in silent yet clearly spoken testimony to Miles Crisp, that shoulders back, head held high, look you straight in the eye man who built a home out of hard work and love for his wife and children away back up yonder in the holler off of Pilkey Creek.
Wood stoves that were left behind
Well, I hope you've enjoyed this little detour, but let me finally come back to Tipper's question "Why do you think that people left those woodstoves at the old home places?"
Well, here's my answer:  I don't know, but I'm going to hazard some guesses below. I'd love to hear from Tipper's readers if they have some other ideas (or even if they disagree with any of mine).
Possible reasons I came up with for leaving stoves behind:
The stoves were worn out – like the one that had failed at the Crisp home (I should note here that I've not seen any evidence of it being left up in there, though I'd sure enough love to).
The stove wasn't a very expensive (or good) one, and didn't seem to justify the aggravation of moving it.
The family had selected a new home which already had a stove in it.
Moving the stove was viewed as too hazardous a proposition. I've found woodstoves up at the head of some hollers where the sled road (if you could call it that) that took you in there was steeper than a mule's face. What would have been hard work pulling a heavy sled in there could turn into a disaster going back down hill.
Personally, I'm sort of glad that a few stove parts were left behind – for whatever reasons.  There's an old saw about how good firewood warms you three times – once when you cut it, once when you split it, and once when you burn it. Well, the physical warming days of these old left behind wood stoves may be long past, but a hundred years hence, heavy cast iron parts and pieces will still be there to warm the hearts of pilgrims wandering through the places their forebears once called home.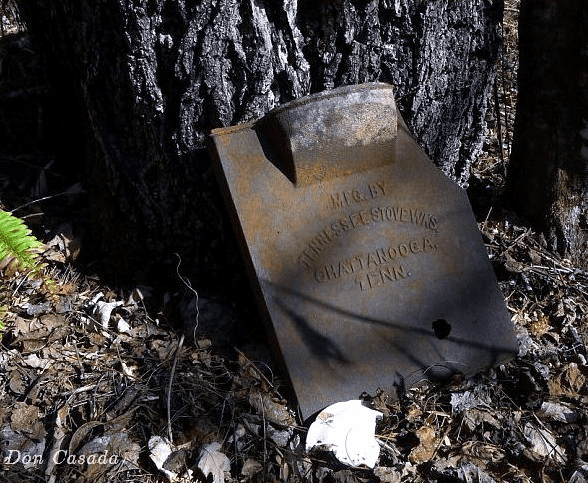 Stove back at the Will and Miley Woodard place on Peachtree Creek
———————–
I hope you enjoyed the conclusion of Don's 2 part guest post. I'm glad he took a little detour from my original question to share the history of Pearl Cable and her family with us. Aren't you?
Tipper