Today's guest post was written by Don Casada. It is the first in a 2 part series.
——————————————
I know a number of people have remarked how amazing it is that Tipper can come up with something new every day. Count me among the amazed. But if you spend a little time around Tipper, it becomes clear that she is always either consciously or subconsciously thinking about things that would be good to talk about. To use a mountain expression, she's always a-studyin' on it. I'm betting (and hoping) that she'll be at it for years to come.
Her constant studying on things showed up recently in a note with a question she sent to me. It sort of tied in with the series of articles she's done in the last month or so related to firewood, rich pine and what not. The question was something simple, along the line of "Why do you think you've found so many stove parts out in the woods?"
The reason Tipper asked me that particular question is because occasionally, I'll write up a little photo-based story on a day's ramblings and scramblings back in the mountains and share them with a few friends who are in bad need of help getting to sleep at night (although that is not a problem for Tipper, from what Chatter, Chitter, and the Deerhunter tell me). I used to call these Tales from the Trails, but since most of my rambling time nowadays is well away from maintained trails, that doesn't quite seem to fit. Perhaps a more apt name would be Tales from Laurel Hells.
But Tipper also knew that a young woman who's about Tipper's age, Wendy Meyers, and I are hard at work on a project to document old home places in the Swain County portion of the Great Smoky Mountains National Park. Our work includes physically locating, marking (by GPS coordinates), and characterizing the sites, but it also includes researching the people and general history of the place. While I personally get a kick out of finding the sites (and sometimes get my rear end kicked by rhododendron, laurel and greenbrier and mountain sides that are steeper than a mule's face in the process), the thing that both of us enjoy the most is the time we spend with folks who once called these places home.
I'm hoping that Miz Tipper will let us post a story here every now and then about what we stumble across. Today, in the guise of answering her question about wood stoves, I figured I'd offer a little tale involving a wood stove that DID make it out of the back of beyond, throw in a beautiful chimney and pass along some stories from a woman who is just as fine as fine can be – Pearl Cable.
Pearl Cable: a sweet young filly, from way up on Pilkey Creek
Pearl Crisp was born on April 26, 1920 (if you'll do the math, you'll see that she's 91 going on 92) and raised on Pilkey Creek. Pilkey Creek is, to the person who can only get there by walking, the most remote mid-to-major size stream on the north shore of Fontana Lake. It is 13 or more miles from any point which you can reach by wheeled vehicle. Most folks who go there travel across Fontana to the creek by boat. But even going that route, there's a fair amount of walking left to reach some of the old home places – such as that of Miles and Sarah Pilkington Crisp, the parents of Pearl.
Pearl met her future husband, Sam Cable, at the Tennessee River Baptist Church near the mouth of Chesquaw Branch. From the Crisp home, it was 1.7 miles down out of the holler to old NC 288, then another 1.9 miles down to the church. As you might guess, the family traveled by foot – both ways of course. Now it was only uphill one way, but there was a 700 foot climb involved in the 3.6 mile trek back home.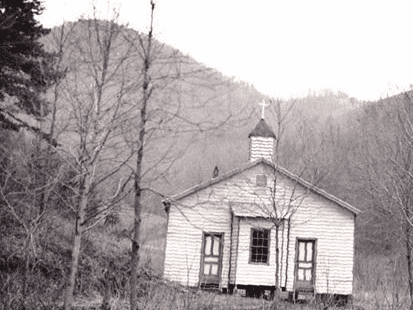 Tennessee River Baptist Church (TVA photo)
After they got to courting, Sam would regularly walk Pearl home from church on Sunday. Along the way, they'd walk past the old elementary school at Dorsey, Dad Collins little country store at the mouth of Clark Branch – closed on Sunday, of course – and then on up Pilkey Creek past Miz Laura Mae Clark Posey's grist mill.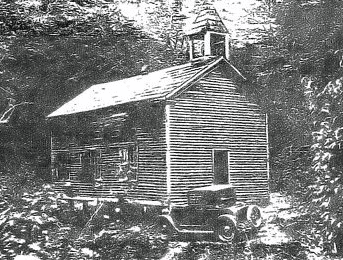 The old Dorsey School (photo courtesy of Swain County Genealogical Society)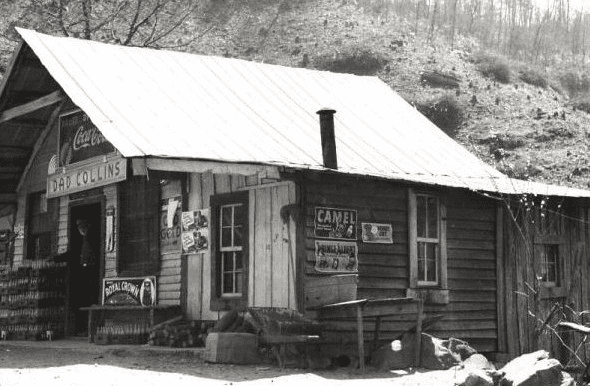 Dad Collins store (TVA photo)
A little ways after you turn off of the Pilkey Creek road up towards the Crisp place, there's a fine old beech tree standing on the bank of the little unnamed branch that flows out of the Miles and Sarah Crisp holler. I took a picture of that Beech back last year and showed to Pearl to see if she remembered it. Her eyes lit up even brighter than normal and she said "Why I well remember that tree – I spent many an hour there." I later wrote a little song that included a line saying that she and Sam "would sit and spark a bit beneath that old beech tree," intending to tease her. But she never denied it, so it just may be that a recollection of sparking was part of what lit up her eyes.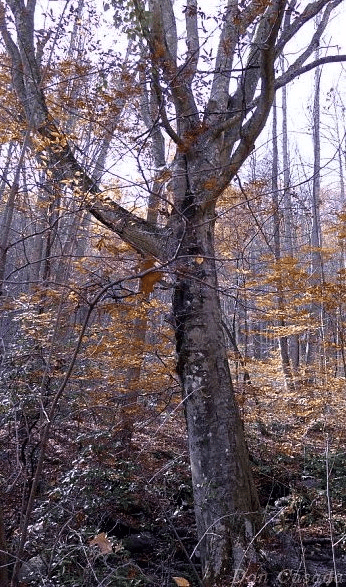 The fine old beech tree alongside the stream below the Crisp place
After Pearl and Sam were married, she moved just across the high ridge that defines the western edge of the Pilkey Creek basin, and made a home with Sam on Calhoun Branch, just down the holler from where Sam grew up. Their daughter Velma was born there in 1942 – one of the last babies born on the north shore. Velma was but a month old when Sam had to leave for basic training in Kansas. The picture below has handsome Sam, beautiful Pearl, and sweet baby Velma when Sam was home for a few days just before leaving for Europe, where he fought for us in WW2.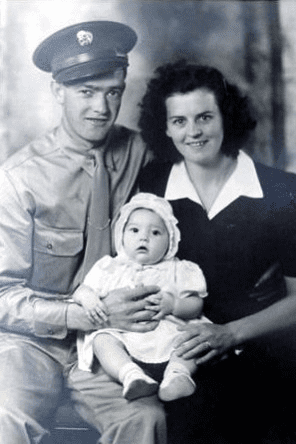 Sanford (Sam), baby Velma, and Pearl Cable – 1943
While Sam and many other boys from Swain County were off fighting for us and Uncle Sam, another of Uncle Sam's outfits – which went by the name Tennessee Valley Authority– moved in to the upper Little Tennessee Valley and began to build Fontana Dam. I don't want to start traveling the literally hundreds of roads that could take us down, or we'd still be here next year. But suffice it to say that by the time Sam got back, their property had been taken, and Pearl, Velma, the Crisps and countless others had been moved out. The cross on the steeple of the Tennessee River Baptist Church was covered by more than 100 feet of water, as were the old Dorsey Elementary School and Dad Collins Store. The Posey mill stood above the flood, but was to never again grind corn to meal; there was no one left to grind for.
It was a cold morning in late November when the bus pulled up down in front of Dent's Café in Bryson City. I'm sure the ground of his home county underneath his feet never felt better when Sam Cable stepped off, retrieved his duffle bag from the underbelly storage of the bus, and went inside to get some breakfast after an all-night ride. War time communications had been restricted, so while Sam knew the families had been forced to leave their homes, he didn't know the details of why or even where his folks were. Fortunately, a taxi driver just happened to know where Pearl's folks had moved to, knew that Pearl and Velma were living there with them, and gave Sam a free ride up to their place up off of Franklin Grove Church Road. Can you imagine the laughter, tears, and pure joy that filled the Crisp home that morning?
Pearl and Sam settled just up the road from Pearl's parents, had another child – Marvin – and made a fine life for themselves here in Swain County. Sam bought and ran a Gulf gas station up above town and Pearl took care of the young'uns and worked as a doctor's assistant. The phrase "the greatest generation" surely applies.
Old days and harder ways
I've spent many days talking with Pearl about old times – days that I count as a true blessing. She's sweeter than the petal of a rose, sharper than its thorn, and has an absolutely amazing memory of the people, places, and times. Spend a few minutes with her, and your steps for the rest of the day will be lighter and your outlook brighter.
While she always has a positive outlook, Pearl doesn't look backwards through rose-colored glasses. She has some wonderful memories about life growing up on Pilkey Creek – but is also quick to tell you that you couldn't pay her to go back in there – it was hard, hard, hard work.
A part of the hard work that Pearl remembers involved rocks. Now I don't mean to offend anyone with Pilkey Creek roots, but there are parts of Pilkey Creek that grew, and apparently still grow, some of the finest crops of rocks a body ever laid eyes on. Pearl says she spent many a day stacking rocks. The photo below is my wife Susan standing below a rock wall a little further up Pilkey creek above the Crisp place. That wall is stacked a little higher than normal – about 6 feet (4 feet thick and perhaps 100 yards long), but is similar in other respects to dozens that you'll find scattered throughout the Pilkey Creek drainage.

Rock wall below the John Pilkington place; October, 2011
Pearl and her mother also did a lot of the firewood gathering, she recalls, most of which went into the fireplace of the home her father (shown below) built in 1930. That's Pearl, holding her sister Vergie's baby. The one-story frame home was built with sawn lumber and covered with shingles rived by Pearl Crisp Cable's father, Miles Crisp, a very gifted – and giving – man. You can see a bit of his smokehouse just to the left of the chimney – or to spell it the way we mountain folks say it – chimley (try it, by the way, and see if chimley doesn't roll off your tongue a lot smoother than chimney).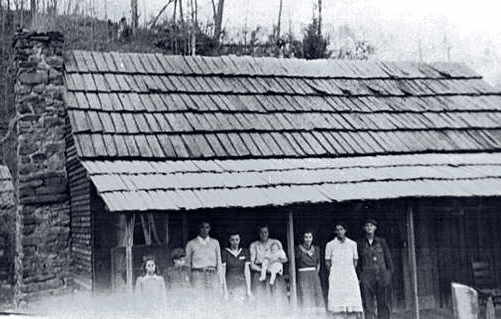 Miles and Sarah Crisp and family – circa 1940
While he did all the other work on the home – the foundation, framing, riving and laying of the shingles – Mr. Crisp hired a fellow known to be skilled in stone work, Huston Nelms, to build the chimney. Nelms was a young 68 years old in 1930 when the frame home was erected. According to Pearl, he built many chimneys in the area. He made his own home a few miles to the west, alongside Mill Branch. His own home had an exceptionally nice springhouse, the foundation of which can be found hidden by a patch of doghobble about two good spits from the Lakeshore Trail.
Today, the chimney that Huston Nelms erected still stands sentinel watch over the Crisp place, a "country mile" up that feeder to Pilkey Creek. Other than a few rocks missing from the top (no doubt knocked off by falling limbs), the chimney is in excellent shape.
It might be noted that the clay chinking used in this chimney, some of which is still in place (you might be able to make it out in the middle section), came from just up the holler. It is almost white in color, bringing kaolin clay to mind. The Crisp place is one of those homes that – when you visit – just has a really good feel about it. You sense both love and hard work about the place.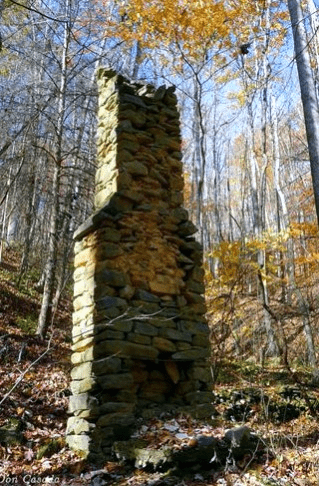 Miles and Sarah Crisp family chimney; photo taken in November, 2011, 67 years after the family was forced to leave (the home was burned – or to use their terminology – "melted" by the U.S. Park Service).
——————————————
I hope you enjoyed the first part of Don's guest post as much as I did. Don also had an update about Miz Pearl Cable's condition:
As often happens after surgery of any kind, there are ups and downs. The surgery itself went well, but Miz Pearl had a rough spell on Saturday evening and a part of Sunday. However, as of Sunday evening, she was feeling a lot better. Her family is hoping that she'll be able to move from the hospital to a place that specializes in recovery therapy early this week. Many thanks to all of the Blind Pig extended family for their continuing thoughts and prayers.
Be sure to drop back by tomorrow for the 2nd part of Don's guest post-which answers my question about wood stoves that were left behind-and tells the story of one stove that did make it out from the back of beyond. (click here for the 2nd part)
Tipper