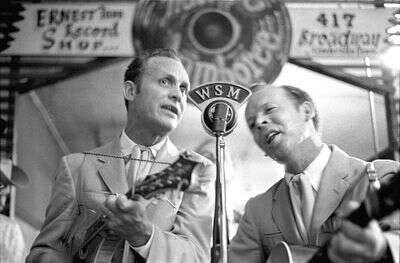 The Louvin Brothers greatly influenced the music of Pap and Paul and even Chatter and Chitter strive to reach the Louvins' level of harmonic perfection in their singing.
While The Louvins had tons of hits, only one song I Don't Believe You've Met My Baby made it all the way to number one. I grew up hearing the song and always liked it. The story of the song makes me feel sorry for the man in the beginning; and then makes me happy for him as the last lines of the song are reached. The song details the dream of a man who believes he may have lost his sweetheart.
—————-
Last night my dear the rain was falling
I went to bed so sad and blue
Then I had a dream of you
I dreamed I was strolling in the evening
Underneath the harvest moon
I was thinking about you
Then we met out in the moonlight
The stars were shining in your eyes
But another was there too
I don't believe you've met my baby
You looked at him, he looked at you
I wondered who you were taking to
I shook the hand of your stranger
But I was shaking low inside
I was still wondering who
Your arm was resting on his shoulder
You smiled at him, you smiled at me
His eyes were filled with victory
He said "My sister wants to marry"
Then my heart was filled with ease
I knew that you would marry me
—————-
I hope you enjoyed the love story with a happy ending and the way Pap and Paul delivered it.
Tipper