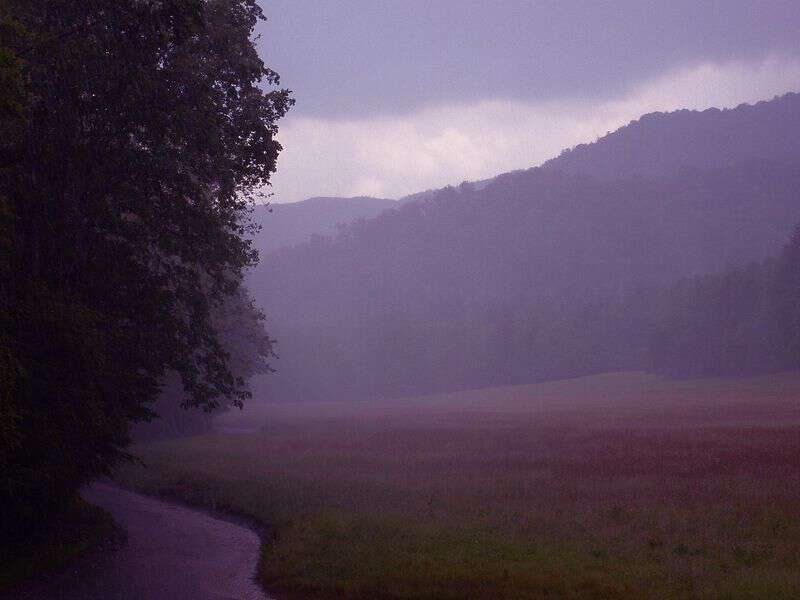 We've finally been getting rain on a more regular basis here in Wilson Holler. Seems like for most of the summer-the evening storms and showers that frequented the area would miss us in favor of moving through Murphy and on up to the Andrews area.
Last night I was awakened by a humdinger of a rain storm. No wind-just constant lightning, thunder, and heavy rain. As I lay in the bed and listened to the rain drum our metal roof I was reminded of a story a man named Junior once told me.
It was back in the day when I worked at Lake Logan-which was a meeting facility of Champion International. After a particularly heavy rain, Junior, who had lived above the lake most of his life, told me about an awful cloud burst that happened when he was a child. He said there was a cloud burst way up on the mountain and the people below had no warning of the flood it was sending down the headwaters of the Pigeon River.
I've heard of cloud bursts my whole life. I've also heard heavy rains described as: a frog strangler, raining cats and dogs, a gully washer, and even the off color one The Deer Hunter uses-it's raining like pouring pee out of a boot.
But one I've never heard is listed in the Dictionary of Smoky Mountain English:
*Little Noah noun – a heavy rainstorm.
Have you ever heard the phrase little Noah used to describe a heavy rain?
Tipper
Appalachia Through My Eyes – A series of photographs from my life in Southern Appalachia.