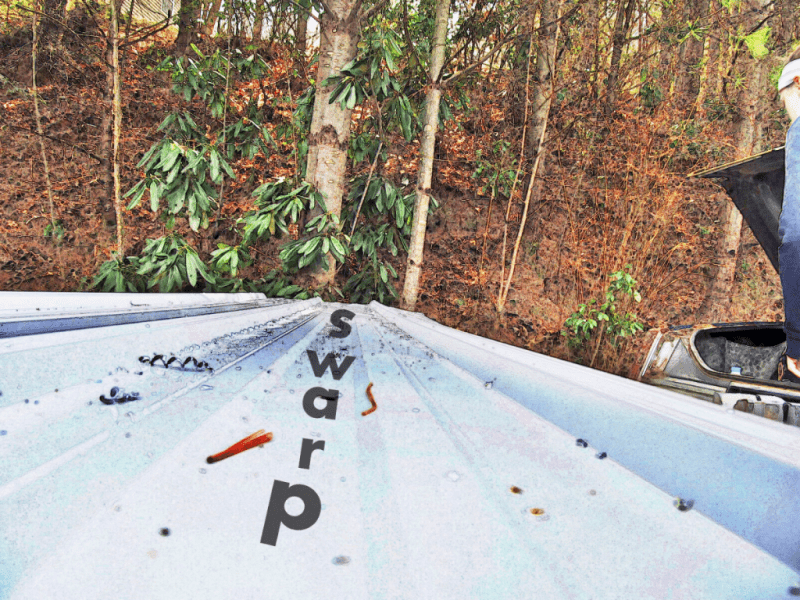 My Father's Day post about Pap swarping the car over into the briars brought more than a few comments and emails about the word swarp.
I could have sworn I used the word in one of my Appalachian Vocabulary Tests but can't find it. I did use the word in this post about Woody Frankum Ceilings.
I checked out my Dictionary of Smoky Mountain English to see what it had to say about the word swarp.
swarp
A verb to beat, strike; to move about unsteadily. Cf swap B, warp 2.
1982 Maples Memories 29 We would take an old cane pole, swarp [a bat] down, hold him by the wings, and see his little snapping teeth. 1989 Oliver Hazel Creek 31 He cut a large pole and when they would get too close to him he would lash out at them ("swarp" the ground) with the pole to drive them away. 1993 Ison and Ison Whole Nuther Lg 66 = move about unsteadily, from one side to another.
B noun A blow, hit.
1982 Maples Memories 32 Dad said that he and a friend were riding one day, and the friend, acting smart, reached over and gave Dad's mule a swarp across the back.
——————-
I've heard swarp used all my life and use it myself in 2 distinct meanings.
As the dictionary pointed out-a blow or a hit. You can swarp someone with a belt or other item and you can also be swarped by a cow tail, a limb, or other item.
The other usage is like what I was trying to describe about Pap. Pap was driving the car and he swarped (swerved) out of the road and then pulled the car right back into the road. You might say something like: "He was out there mowing the grass and accidentally made one good swarp through his mama's flowers."
The second usage I shared may have come from the first usage from the dictionary: to move about unsteadily. Or it could have come from a corruption of the word "swarth: a row of mown hay or grass, the space covered by a sweep of the scythe" (Dictionary of Smoky Mountain English).
After I started thinking about the word I did a little googling around. I found an interesting and totally ridiculous piece about the word swarp and it's usage in the book Appalachia Inside Out Volume 2 Culture and Custom. The book is basically a collection of different writings about or related to Appalachia. I happen to have the book on my bookshelf, but you can read the piece in its entirety here.
The outright ugliness in the writing makes me want to try to weave swarp into every last conversation I have!
Appalachia Inside Out Volume 2 Culture and Custom – An Appalachian Relic: Notes on "Swarp"

Not to be outdone, Professor Pissel Bush, in his work Why We Don't Use Words We Never Use, a popular revision of the earlier Wamblies, Git-Fidgets, and Poltroons, by Asa Middlehigh, the famous rival of Noah Webster, states:

Though not a popular word, swarp nevertheless has enjoyed occasional currency in the isolated coves of Eastern Kentucky, where wild groups of snake-handlers, ginseng-hunters, and gum-cutters, as well as other unsavory types such as versifiers, prevaricators, and the inventors of riddles, use it as a euphemism for being "shitte [sic] drunk."

And in a footnote, Bush adds, somewhat moralistically:

The word, with its sweet sibilant beginning, promising ease and beauty and grace, yet ends with one of the harshest sounds available in English: so too do the practitioners of swarping descend from the deceptive silken heights of their drunkenness to the foul charnel-house cellar of despair and crapulous degradation. "Swarping" is, indeed, a devil's word, and as such belongs in no polite vocabulary.
Geesh! He doesn't even like the letters in the word! And who wouldn't want to be an inventor of riddles or a versifier or spend their days in the woods hunting ginseng!
The piece goes on with much of the same insanity. But ends with a fictional story that I like:
Young Josiah Leathers, the first Kentuckian to graduate from Heidelberg University in Germany with a Ph.D., was apparently a troublesome chap in his youth. Sneaking from the dormitory one frosty night, he made his way down the right fork of Hardscrabble to the Drought County Courthouse. No one was about, and the boy eager to express his disdain towards those who supported the dismantling of his vocabulary, took from his slingpoke a cold chisel and hammer. Working swiftly, he carved the word "swarp" into the soft sandstone of the Court House steps.

Confronted the next morning by the director of the Settlement School, a sour-spittled woman with a long habit of chastity Leathers defiantly cried, "I'll not unswarp myself for no quare woman, nor for the Lord God Hisself of these hills."

His recalcitrance won for Leathers the dubious distinction of being thrown into a sticker bush just outside the dining hall by a group of reactionary scholars led by a noxious youth named Dewars.

The Settlement School's campaign against "swarp" was, despite Leather's considerable efforts, mostly successful. In most parts of eastern Kentucky today, the word is no longer heard, retired at last as a quaint archaism in the works of local yarn-spinners.
Well I certainly don't consider myself a lower class of people, nor does any of that drivel about drunkenness and cellar of despair fit my persona. I guess I could be consider a yarn-spinner with a mighty big stretch, but that's not really me either.
I believe like Young Josiah, I'll disregard their silly line of thinking and take a vow to never unswarp myself.
Tipper
*Source: Appalachia Inside Out Volume 2 Culture and Custom – An Appalachian Relic: Notes on "Swarp"