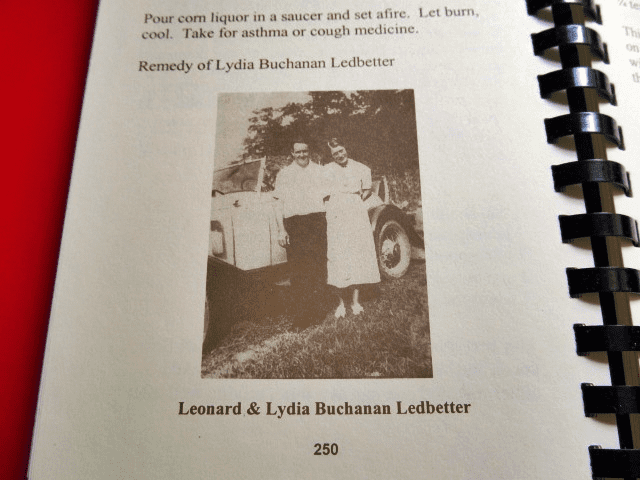 Recipes, Remedies & Rumors Volume I Cades Cove Preservation Association (photo and excerpts)
The cookie recipe I shared with you on Monday was from the book above-and was the recipe used by the lady in the photo- Lydia Buchanan Ledbetter.
"Lydia's parents were John and Hester Lail Buchanan. Lydia Buchanaan was born Nov. 11, 1913 at home. She was born in the Canes, a section of Cades Cove. Lydia had three sisters and one brother. She went to school in the Canes, walking 2 1/2 miles, until they moved out in 1929. Her grandparents, G.Y. and Lydia Buchanan donated the land for the Buchanan Cemetery."
Her husband, Leonard, had a rich long family history in Cades Cove. Another excerpt from the cookbook shows some of the more interesting history.
Matthew Manuel (Bud) Ledbetter and his family worked hard through the week. Sunday was their day to rest. If the boys got rowdy, Bud put them in the fields picking up rocks. They used them to make "rock walls". These rock walls were used to keep cows and deer out of the garden and to turn water off the crops.

Daniel Calvin (Cal) Ledbetter and Anna Rebecca Shields, daughter of Frederick David and Phoebe Jane Walker Shields, decided to get married. They eloped on horses. Anna had on all five of her dresses! They got marred on the trail going to White Oak Sinks. Her father came out School House Gap and shot off into the Sinks and said, "I guess I killed them!"

One day Bud told Tom, his son to take the mule and go plow the lower forty. No one saw Tom the rest of the day. About suppertime, Bud said he'd better go check on Tom. He found the mules tied to a tree and no sight of Tom. The next they heard from Tom, he was in the form of a letter. Tom had run off and joined the Army!

Cal Ledbetter and his son, Roy, had taken a wagon load of produce to Knoxville for sale. On the return trip, Cal had bought bananas. Roy was sitting in the back of the wagon eating the bananas. He said "You know Dad, these bananas would be good if they didn't have such a big core in them!"

Wade Effler would often go to visit Bud, who was his grandfather. He said he remembered the sixteen foot table, which had a bench on both sides. Wade said there was always plenty to eat. Bud would go to the cellar to get honey. The honey was stored in five-gallon lard cans. They would have big plates of ham for supper. After working the hot fields all day long, G-Grandpa Bud would go down to the Blowing Hole Cave and cool off. In the summer time, cold air comes out just like air-conditioning.

These Rumors and Legends were passed to us by Paul Ledbetter, son of Cal.
——————–
I hope you enjoyed the peek into the Ledbetter family history.
Tipper
*Source: Recipes, Remedies & Rumors Volume I Cades Cove Preservation Association (photo and excerpts)