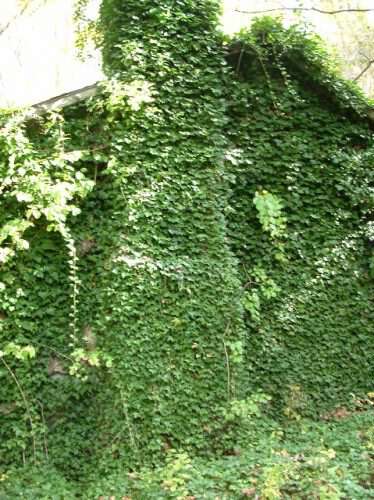 Can you see the house through the ivy-the outline of the chimney? To say the old house has almost been taken over by ivy is an understatement. The house is barely visible at all, just a giant lump of green. Here in the south it's usually kudzu that takes over, but english ivy can too.
I have english ivy growing on a bank here. When I first planted it was just sprigs sticking out along a red clay bank. Can't remember who, but someone told me I'd be sorry when it took over my house and started growing straight through the walls and up through the roof. In defiance I thought "No ivy is going to outdo me."
That was years ago. Each summer I watch as the ivy does indeed march ever closer to my house. So far I've kept it at bay, but sometimes I wonder when I'm gone from this world will it finally eat my house?
Tipper
Appalachia Through My Eyes – A series of photographs from my life in Southern Appalachia.