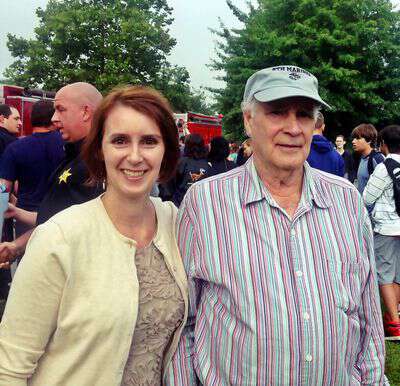 Tipper and Pap 9-11 Ceremony September 2012
Pap is the best father a girl or boy could have and I'm so very thankful he's the one my brothers and I were given.
On Father's Day one thinks of the great wisdom fathers provide and indeed the very sustenance they provide to raise their children up. But sometimes it's the little things that stick out in our minds-things that don't necessarily relate to great wisdom yet things that make our hearts sing when we think upon them in the context of Father's Day.
I've never, not once, seen Pap in a pair of tennis shoes. To my knowledge he's never owned a pair.
Pap drinks coffee with every last meal-no matter what he's eating he's drinking a cup of black coffee with it.
The only time I've ever seen Pap cry in big racking sobs was at his Mother's funeral.
All of Pap's jacket pockets have paper towels stuffed in them. Old paper towels are stuck all over the inside of his car too. He says you never know when you might need an old rag for something. I'm thinking you could never need that many.
For all Pap's sweetness he has a mischievous streak too. He swarped the car through some briars along the road one time to teach Steve to quit sticking his arms out. OUCH for Steve, but it makes me smile. Maybe I've got a mischievous streak too.
Granny wouldn't allow us to swim in the pond down the hill unless a grown up was there too. A grown up with time to waste on us was hard to come by in those days. One evening after Pap got home I started in begging and pleading for him to take me swimming. He had to go sing somewhere that night and besides he was wore out from working so he wasn't interested in watching me swim. I kept up my pleading till finally he caved. He brought along a bar of soap and took his bath in the pond so I could swim.
The list of random things above came to my mind as I pondered on how fathers are complex individuals. There's much more to them than what's written on the Father's Day cards you can buy at the store.
I hope you'll share some random facts about your father. And if you're a father – HAPPY FATHER'S DAY FROM APPALACHIA TO YOU.
Tipper