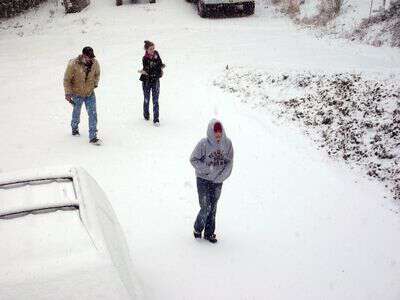 I asked for snow-and Blind Pig readers sent me 5 inches! I swear when I wrote yesterday's post, whining about my lack of snow, I didn't even know it was supposed to snow. But by mid-day when The Deer Hunter brought the girls home from a school function-the driveway was white and slick-forcing them to leave my car at the bottom and walk up to the house. (Chatter actually walked in her socks because she didn't want to ruin her shoes-crazy girl).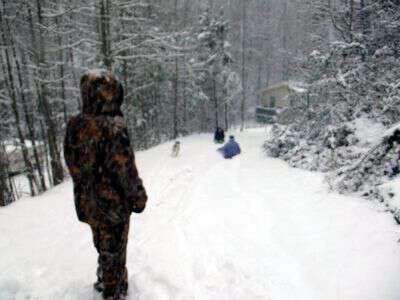 In a couple of hours there was enough snow to sled down the driveway;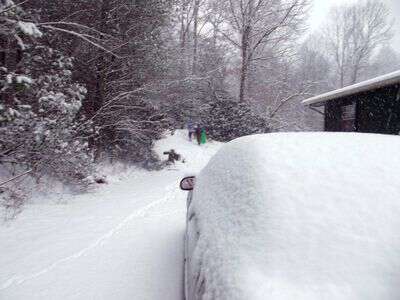 and down every hill the girls could find.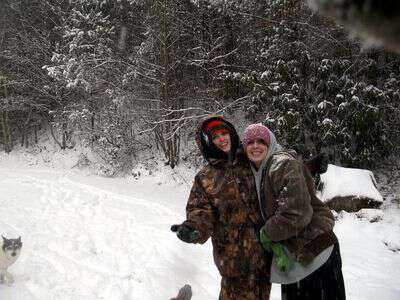 After I tired of following the girls around and laughing at all their shenanigans I headed for home-deciding to take the long way around so I could enjoy the snow while I had it.
I had Robert Frost's poem Stopping by Woods on a Snowy Evening fresh on my mind-because C. Ron Perry sent it to me after reading my snow request post.
——-
Whose woods these are I think I know.
His house is in the village though;
He will not see me stopping here
To watch his woods fill up with snow.
My little horse must think it queer
To stop without a farmhouse near
Between the woods and frozen lake
The darkest evening of the year.
He gives his harness bells a shake
To ask if there is some mistake.
The only other sound's the sweep
Of easy wind and downy flake.
The woods are lovely, dark and deep.
But I have promises to keep.
And miles to go before I sleep.
And miles to go before I sleep.
——-
As I walked, I thought how in days gone by I too could have heard the jingle of a harness as I sat in woods which were quieted by snow. Mostly I thought of the beauty of each snow flake-of how they piled up high to give me the desires of my heart-a big snow.
The magic of the snow falling softly around me-made me feel as though every snowflake was sent by a Blind Pig reader especially for me. And that made the snow even more lovely than I could have ever imagined.
Tipper
*Robert Frost, "Stopping by Woods on a Snowy Evening" from The Poetry of Robert Frost, edited by Edward Connery Lathem. Copyright 1923, © 1969 by Henry Holt and Company, Inc., renewed 1951, by Robert Frost. Reprinted with the permission of Henry Holt and Company, LLC. Source: The Random House Book of Poetry for Children(1983).