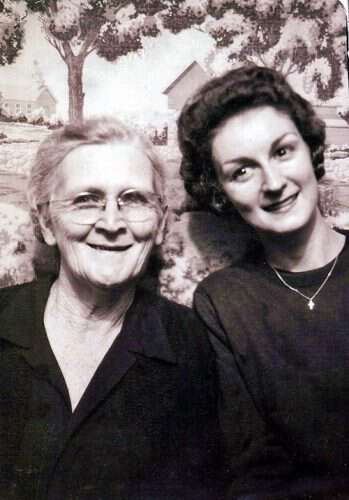 Granny and her mother Gazzie
While Granny and I were planning our Thanksgiving dinner I asked her about what her mother did for Thanksgiving when Granny was young and still at home.
"Oh she'd cook a big meal with a big turkey. She was used to cooking for a crowd. Daddy would help her in the kitchen. He kept the fire going in the stove. My sisters Fay and Geneive would help cook. I never did I was always off doing something else. Grandpa couldn't eat cornbread so for every meal momma fixed biscuits and cornbread. She had these big tin or metal canisters. She'd buy 50lbs of flour and 50lbs of cornmeal at a time and she kept it in those canisters. The flour and cornmeal came in cotton sacks. She always canned peaches so there'd be peaches and cake on the table. Mother made the best pumpkin pies but she didn't even use a recipe. She just throwed it together and made her pie. She made her own pie crust too. We'd have fried sweet potatoes and stewed arsh taters. We'd drink kool-aid, tea, or coffee. All momma's kids would come if they could, even the ones that were already married and gone.
~Evelyn Louzine Wilson (Granny) November 2018 
—-
Tipper
Subscribe for FREE and get a daily dose of Appalachia in your inbox