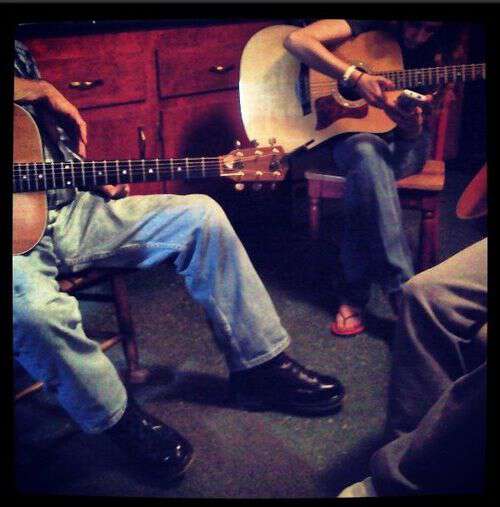 Getting together to make music on Sunday afternoons is something we've been doing for years-something we did even before the Blind Pig & the Acorn existed.
Time gets away from you-even when you're right in the middle of the hours and minutes that fly by.
If you've been a Blind Pig reader from the beginning you'll remember in our first pickin' and grinnin' videos my nephews Ben and Mark were young boys. Ben was barely in high school and Mark was still in middle school. Then there was Chatter and Chitter.
The girls didn't show up in the videos much back in the early days and when they did sometimes we wished they didn't. I'm only kidding-but in those days the girls were hard to wrangle when it came to pickin' and grinnin'.
Truthfully-it was both of them. Chatter would be gun-ho ready to go and really give it her best-and Chitter would stub up and give nothing but eye rolls and shrugs. Then next Sunday would arrive and Chitter would be all ready to sing-fully repentant for how she'd acted at the last practice and then I swear Chatter would be stubbed up and refusing to do her part.
People used to tell me "You should get the girls to smile more in your videos." I'd tell them "If you knew how much effort it took to get them both in the video you wouldn't worry about the smiling."
For a long time Ben was the only one who had a cell phone. We all gave him grief about texting in between every song…none of us aggravated him more than his brother Mark. But it wasn't long before Mark had his own phone and we were teasing him about texting. These days it's the girls and those blasted phones (as Pap says).
Somewhere along the way Chatter and Chitter added their instruments into the mix and Ben left us for college way up north with Mark following along after him soon thereafter. When the boys come home to visit we pull out all the old songs they played breaks on and do them. We don't play the songs when they're gone even though we could.
I don't force the girls to go every Sunday-but I highly encourage it and they know I'll be sore about them missing the picking at Paul's unless they have a real good reason for it. I tell them-someday these Sunday afternoons will be among your favorite memories and you'll be glad I encouraged you to be part of it. I'm sure Ben and Mark already realize that…and before long Chatter and Chitter will too.
With the boys gone and the girls really coming into their own in their musical endeavors we've been trying out new arrangements-one of which is a trio made up of Pap, Paul and Chatter. Check out one of their latest songs and see what you think about their 3 part harmony.
These days its just Pap, Paul, the girls and me. There's still some eye-rolling and shrugging but there's also some amazing music coming out of Paul's little kitchen if I do say so myself. But then again there always has been.
Tipper