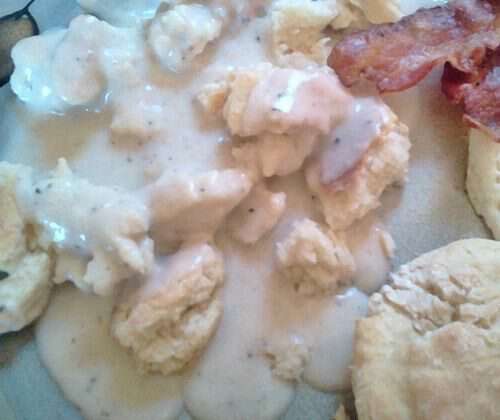 Breakfast
My parents were up early, as there was a lot to be done in the day. We had a wood cook stove that Mother had to heat up in order to cook breakfast. Coffee, the first priority, was set to perk on the stove. After his coffee, Daddy went outside to do chores, such as milking, feeding the hens, and cleaning out pens. Mother baked biscuits, and cooked one of the breakfast staples, such a fried streaky meat, sawmill gravy, sausage, bacon, fried eggs, cheese omelets, grits, fried ham, red eye gravy, sausage gravy, and in the winter, oatmeal. On the weekends we might have pancakes, waffles, or dried chipped beef in milk gravy. It all depended on how the chickens were laying and what meat, if any, we had. We prepared fried eggs in the old-timey manner. If we had fried bacon, its grease was left in the skillet and an egg broken in; then whilst the egg was cooking, the grease was spooned on top. This cooked the egg just enough, so it was perfect in looks and taste.
"Mountain Born" – Jean Boone Benfield
—————-
These days most folks don't eat a big daily breakfast like Ms. Benfield did in her youth, at least we don't. I usually eat a bowl of corn flakes, the girls eat oatmeal, and The Deer Hunter, well I don't know what he eats since he leaves for work earlier than I do. Our big breakfasts are relegated to weekend mornings or cooked up for supper one night during the week.
It's also true that most folks don't do the work after breakfast that Ms. Benfield's family did in those days.
Tipper
Subscribe for FREE and get a daily dose of Appalachia in your inbox