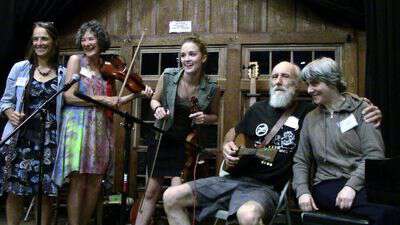 Chitter and her band the Music Mongers
This past week Chatter and Chitter attended the Dance Musicians Class at John C. Campbell Folk School. This year was the 20th anniversary of the class.
Playing music all day-dancing all night-spending time with good friends and eating the folk school's scrumptious meals = living the high life for Chatter and Chitter.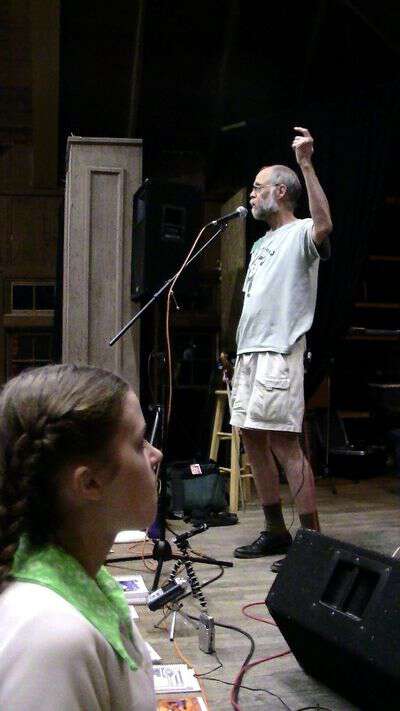 Chatter and David Kaynor
This is the 3rd year the girls have taken the annual class-thanks to an amazingly generous person(s). They adore their teachers-David Kaynor, Sue Songer, Peter Siegel, and Naomi Morse. And they adore their fellow classmates as well.
By weeks end all the students are placed in 'bands' and they have an opportunity to play alone as a group for one of the nightly dances being called. The other students stand near the stage-whooping and hollering and calling out encouragement to band members, some of who may have never played for a real live dance before.
Dance musicians have to have skill and stamina. Many dances last over 10 minutes-that's a long time if you're the one holding the instrument. Often during a dance the musicians will switch tunes mid-stream. Changing songs on the spur of the moment is hard enough-knowing the dancers out there on the floor and the caller standing beside you need the transition to be perfectly smooth makes it even harder.
The band tradition brings the class full circle-allowing students to work together as a team and show off what they've learned during the week.
Watch this montage of Chatter and Chitter's bands, Triumph and The Music Mongers, to get a feel for the class.
I hope you enjoyed seeing part of the culmination of Dance Musicians Week @ JCCFS.
Tipper