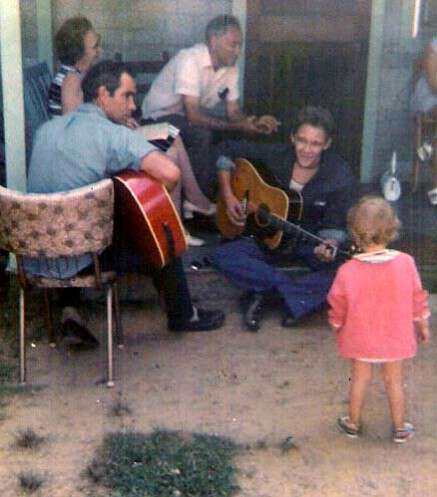 Del McCoury has a song "Nashville Cats" about the abundance of guitar pickers in Nashville. When I was growing up I just assumed everyone heard non stop picking (you know the same song played at least 18 times during my favorite t.v. show). Even though it was sometimes annoying I wouldn't trade my musical family for anything. My whole life has been colored by music. The little girl in the picture below is me. Absorbing it all.
It seems I can trace my life by songs. I can hear an old song that I haven't thought about in years-and if I close my eyes the years fly backward and I'm a shy skinny little girl again. I can remember being fairly small about 5 or 6 and feeling really sad about one song Pap kept singing. It said something about  "my little pal going away". My youngest brother is named Paul and I thought Pap was singing about Paul going away and I wasn't happy about it.
Now my brothers and I are all grown up and Paul is the one doing most of the Pickin & Grinnin. I happen to think he is better than any Nashville Cat.
Tipper