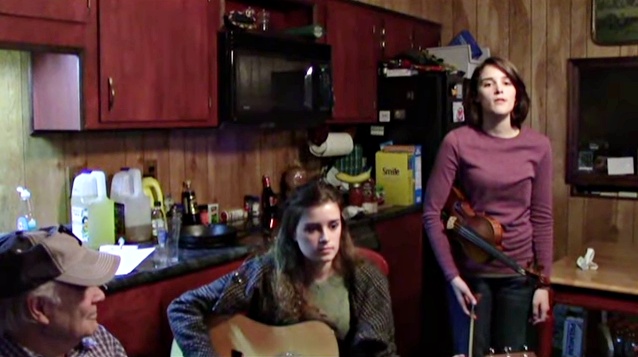 Pap used to say we tried to do too many songs and never stayed with any of them long enough to really get them right. He had a valid point, we do seem to learn songs only to leave them by the wayside and move on to another tune.
There are some songs we've never stopped doing since the girls started playing and singing first with Pap and Paul and later by themselves. One that comes to mind is the classic Dillards song made famous by The Andy Griffith Show "There is a Time."
Every once in a while we'll revisit one of those old songs we left behind and practice it up again. Sometimes we sort of relearn it and start doing it again and others we play it for a practice or two and then leave it again.
The girls used to do the old song "Lonesome Feeling" written by Billy Henson and first recorded by The Osborne Brothers at about every show we played. I'm almost certain the girls originally learned the song from a Josh Williams cd they picked up on a trip to see Miss Cindy when she still lived in Black Mountain, NC.
I always loved the song because of its lonesome sound and lyrics. I'm a lover of the melancholy whether its music or stories.
A few weeks ago the girls decided to give the song a try again and we've been doing it in our recent performances. Here's a video they added to their YouTube channel a short time ago.
As they mentioned in the video, Pap really liked the song. I'm not sure if it was because he really enjoyed the lyrics or if it was simply that he enjoyed seeing his granddaughters do the song.
The video below was from almost ten years ago. You can certainly see how much the girls have changed since then and you can hear how their music has progressed as well. But my favorite part of the video is Pap's face—you can tell he was flat out enjoying the performance.
Hope you enjoyed the videos and I hope you have a wonderful Sunday.
Tipper
Subscribe for FREE and get a daily dose of Appalachia in your inbox