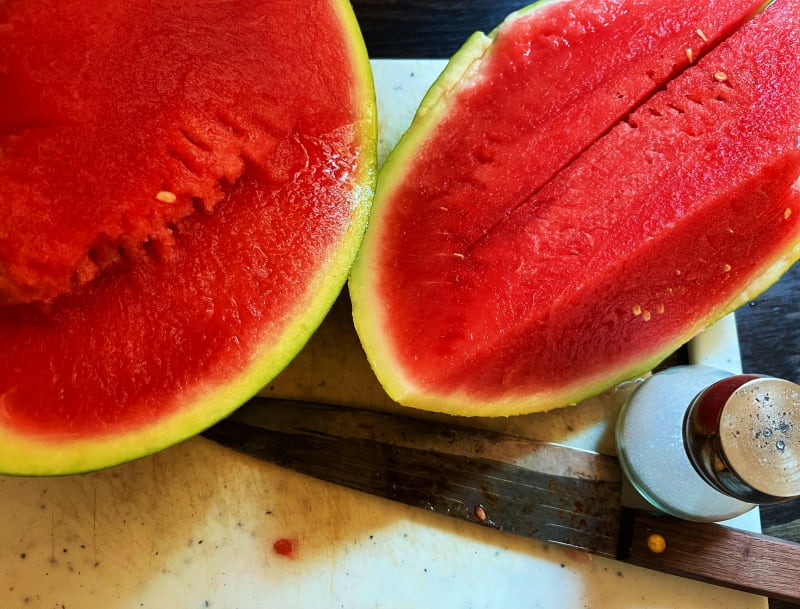 One of the culinary highlights of summer for me is eating fresh watermelon. From the time they become available in spring until the last fresh melons of late summer I eat watermelon every day. I just love it.
I always try to grow watermelons, but never have much luck with them. Living on the north side of the mountain means I don't get near enough sunshine for truly large melons. Even my sugar babies and other small varieties never get as large as they should.
Pap and Granny loved watermelon. Pap would bring one home and put it in the creek to cool and then of an evening we'd take a knife, some towels, and a salt shaker to the backyard to eat that sweet goodness.
We'd spit seeds and talk while the stickiness ran down our arms.
These days I'm the only one that really loves watermelon at my house so I cut them up and put them in the fridge and eat on it till its gone and then get me another one.
I over heard folks talking about whether you should salt your watermelon or not the other day. The sides for salt and no salt were pretty much even. I always salt my watermelon, but I love the fruit so much that if I couldn't use salt I'd still gobble it down every chance I could.
Granny and Paul still enjoy watermelon and I do believe Miss Cindy loves it as much as I do. They say The Deer Hunter's Papaw James loved watermelon so much he decided to freeze one and see if he could have watermelon at Christmas. As you might guess his venture didn't work, but boy I wish it had. Good watermelon in the middle of winter would be a real treat.
---
Last night's video: Your Going to Stob Your Eye Out and Other Unique Appalachian Phrases and Sayings.
Tipper
Subscribe for FREE and get a daily dose of Appalachia in your inbox