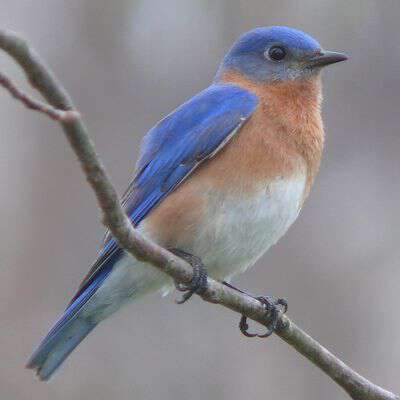 Charles Fletcher, talented Appalachian writer, recently shared some interesting Bluebird information with me, and I thought you might enjoy it too. For many years Charles placed Bluebird boxes throughout Bradley County Tennessee and kept track of the bluebirds that lived in them.
—————-
Bluebirds written by Charles Fletcher
There are three classification of bluebirds: Eastern, Mountain, and Western. The following information is for the Eastern Bluebird. Their range is east of the Rocky Mountains, up the Atlantic coast into Canada. It is the state bird of Missouri and New York.
They are approximately 6 1/2 to 7 1/2 inches long with a wing spread of 11 1/2 to 13 1/4 inches. The male is bright blue above breast sides, with flanks reddish brown, the breast and underside is white, and the eyes are dark brown. The female is not as bright colored as the male.
The bluebird has a hunched appearance when perched. They live in open country, farms, cut-over woods, gardens, parks, fields, orchards and roadsides. They have serious competition for nesting holes from starlings, house sparrows, wrens and other small birds. Many remain on nesting grounds in winter. Those that go south tell people that winter is over when they return to their nesting grounds.
The Eastern Bluebird feeds on insects mostly. They eat grassshoppers, crickets, katydids, beetles, spiders, sow bugs, snails and earth worms. They also eat black berries, poke berries, wild grapes, and seed from many plants.
The nest is built mostly by the female in a natural tree cavity, old woodpecker holes, holes in stumps, rail fences, and bird boxes that are three foot or more above ground. The nest is made from dried grasses, pine needles, weed stems, fine twigs, lined with fine grasses, hairs and feathers.
The eggs are laid usually in March thru July. Three to seven eggs, but usually 4 to 5. The eggs are pale blue and sometimes white. The female does most of the setting but gets some help from the male. The eggs hatch in 13 to 16 days. The young are ready to fly 15 to 20 days after hatching. Usually there are two broods, sometimes three. The baby birds are fed solely on insects. The adults eat about 70% insects, 30% berries. The life span of bluebirds is 4 to 5 years. They fly at approximately 15 miles per hour.
In recent years the population has dropped considerably as a result of the use of pesticides and fungicides in agriculture, building of highways, subdivisions and over cutting of trees that destroys their natural nesting grounds. By providing nesting boxes we give them a chance to multiply and not become extinct.
Did you know that the only places in the world where bluebirds can be found are in North American and Bermuda? More songs and poems have been written about the bluebird than any other bird. It is associated with spring, love, and joy. It is a symbol commemorating marriages and anniversaries. It is a special messenger for contentment and health.
—————-
I hope you enjoyed the fascinating information Charles shared as much as I did. He's right about bluebird songs. Here's Pap and Paul singing one.
Hope you enjoyed the song!
Tipper