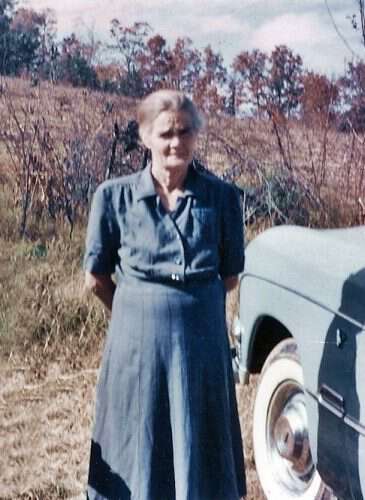 Big Grandma – Carrie Coleman Elliott Wilson
One of our friends will be teaching a class at the John C. Campbell Folk School this week, but arrived a few days early and needed a place to sleep so he stayed a couple days with us. As we ate supper one night he asked me if there was ever a time that music took a back seat in our lives. He said many of his friends had to put their music on hold for a few years when their children were small. I said "No there's always been music it never stops."
The conversation continued and I began to remember all the kids that were around when I was little and how we'd run wild outside while the grownups made music inside and how the littlest kids would end up sprawled over somebody's shoulder or in the floor asleep. I was drawn back to the conversation as I heard Chitter describing the music influenced memories of her childhood. I was genuinely impressed as I listened to her fond memories. Even though I was there for every one, it was eye opening to hear the stories from her point of view.
One of the good stereotypes that's often used to describe Appalachians is that every last person can pick and sing. Of course the statement is wrong just like the many derogatory stereotypes are wrong. But if the only family you knew from Appalachia was mine you would indeed believe that everyone can play and sing. Our great love for music goes back through the generations. And I'm doubly blessed because I got a healthy dose of music from Pap's family and Granny's family.
I can barely remember Big Grandma, but Pap spent lots of time with her when he was a boy and over the years he told me so many stories about her that I know she had a great influence on his life. Pap said she was one of the best piano players around. Like many mountain musicians she played by ear and Pap said every time he heard someone who could really play the piano he was reminded of her great talent.
I get excited about all the songs we play and sing, from the new stuff like "If It Hadn't Been for Love" to the old old songs we do. I love them all. But when we do a song that I know has a history in my own family I get doubly excited. For today's Pickin and Grinnin in the Kitchen spot I'm going to share two videos of the same song. One from way back in 2010 and one from 2017.
"On Heaven's Bright Shore" was a favorite of Big Grandma's. I grew up singing it in church and somewhere along the way the girls learned to sing it too. A quick watch of the second video will show you Pap clearly liked the song too.
I hope you enjoyed the videos! I couldn't resist showing the second one because of Pap's expressions throughout. You can tell the song and the girls both meant a great deal to him.
Tipper
Subscribe for FREE and get a daily dose of Appalachia in your inbox