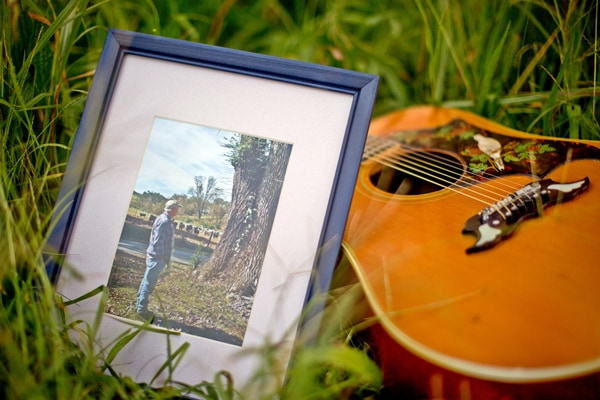 Since Pap died back in 2016 Paul has been diligently working on a cd of Pap's original songs. It's not like Paul doesn't have anything else to do, he is a very busy man to say the least. But every chance he gets he plods along on the recordings.
Paul does a whole lot more than just record himself playing various instruments and singing the lyrics. He's assembled various musicians from all over the world to play on the songs. He's tried all sorts of new things—sometimes they work and sometimes he has to totally scrap it all and start over. The old saying it's a labor of love comes to mind when I think of all the hard work Paul has done in an effort to preserve Pap's songs.
The video I'm sharing today gives you a peek into the complex work Paul has completed on every song he's recorded so far.
Here's what Paul said about the video:
Back when I uploaded Casey Jones in the last Train song series, several viewers seemed to like seeing/hearing an instrument that they didn't know about previously (the six-string banjo). That got me to thinking that I should maybe do some more videos where I play or show unusual instruments. So I made a long-winded video 🙂
To digress for a moment back to that 6-string banjo, I will share that the first time I ever saw/heard one, Doc Watson was playing it on PBS, specifically, he was playing "My Blueridge Mountain Home." Pap and I were watching together, and I remarked, "I didn't know Doc could play the banjo!" Pap immediately recognized that Doc was using guitar chords and said, "That ain't a banjo. It's a guitar made like a banjo." I'm sure Doc could have played the regular 5-string if he wanted. In fact, maybe he did. Anyway, I made a mental note that I could get one someday and use it on recordings to imitate the 5-string. That's what I wound up doing sometime after Pap passed, probably around early 2017. The next time I saw one (after the Doc sighting) was when Eric Bazilian played one in the all-acoustic Carnegie Hall Concert that Joe Bonamassa did. Bazilian played a mandolin, dobro, and saxophone all in the same concert. He commented in some of the behind-the-scenes footage, that he only knows three notes on the sax but was able to mix them various ways to play in the song "Livin' Easy." Seeing this and hearing his comment reminded me that you don't have to master an instrument or even progress very far with it in order to add it to certain songs for flavor or to set a certain mood.
That's a big part of what I've been doing with some of my recordings, and it's part of what I ramble about in this rather long video.
Here's a little more info to go along with all the info that's in the video: I must have been really tired when I recorded this video, because I mistakenly called Ryan Zimmerman (the steel guitar player), Zack Rowland! My apologies to Ryan. His father's name is Roland, and somehow, my brain mixed everything up. If you go to the Paul Wade Wilson YouTube channel I mention in the video, please be advised that it is monetized, so you will see ads there. Also, comments are disabled on that channel. I suppose CDBaby didn't want to have to deal with comments and has no way for anyone to monitor, respond to, or delete them, etc. on all the music channels that they create for artists.
When I said that the Shofar is possibly the oldest instrument, please know that I wasn't counting the drum. 🙂 I didn't count the drum because it doesn't really produce notes per se, only rhythm, strictly speaking. Also please know that when the CD is finally completed and released, it will have much better audio quality than the uploaded videos/song files, which feature a lower sampling rate.
---
---
I hope you enjoyed hearing Paul talk about the creative process he took to record Pap's original song "See the Salvation of the Lord" as much as I did. I will be forever grateful for the work Paul's done recording Pap's songs. I can only imagine future generations of our family will be too.
---
Tipper
Subscribe for FREE and get a daily dose of Appalachia in your inbox